Sweet & Sour Meatballs
Tomorrow is SuperBowl and millions of football fans will have their eyes glued to the television in hopes that their favored team will win.  With game day also comes lots of grub food to share with family and friends as they all gather to watch the game. 
If you're a frequent vistor to At Home with Vicki Bensinger then you probably saw my post this past Tuesday where I shared a delicious French-Toasted Turkey & Cheese Party Sandwich – perfect to serve on game day. However, one of my favorite all time appetizers are Sweet & Sour Meatballs.  I've never posted this simple recipe because I assumed most people knew how to make them.  However, I discovered I was wrong after sharing these recently and getting numerous requests for the recipe.
Whether you're hosting a party or bringing dishes to one, you don't always have to prepare complicated recipes to satisfy everyone.  In fact, this recipe for Sweet & Sour Meatballs is by far one of the easiest I make and gets gobbled up quickly.  With just three ingredients, you can whip this up in no time at all.  Of course you can always make everything from scratch, but this semi homemade dish is perfect as is.
In addition to my Sweet & Sour Meatballs I hope you'll check out some of my past SuperBowl favorites:
Ooey Gooey Cheese Dip with Homemade Tortilla Chips
Meatloaf Cupcakes with Sweet Potato Frosting
Below is my Sweet & Sour Meatballs recipe.  I hope you'll try it, and I hope your favored team wins!…….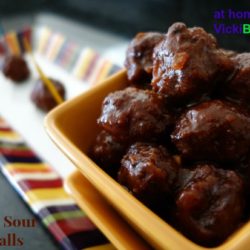 Sweet & Sour Meatballs
Ingredients:
18 oz. jar Grape Jam
12 oz. jar Chili Sauce
1 bag frozen meatballs
Directions:
Combine all ingredients in a sauce pan and bring to a slow boil.  Simmer for 30 minutes to an hour.
Place in a crock pot or warming tray and serve.
*Alternatively you can place all ingredients into a crock pot and heat for 4-5 hours before serving.  I prefer warming them in a saucepan and then placing into a warming tray.
These are incredibly delicious the next day cold from the refrigerator if you have any leftovers.
Enjoy!!!