Dolci Cello
With less than a week away before the holiday season officially begins, many of us are out gathering up goodies to eat, and checking out recipes to try online, in cookbooks, or creating new exciting ones to share with family and friends. 
Earlier this week I went to the Breadsmith to pick up a loaf of Brioche to use as a stuffing for a turkey breast.  If you're familiar with the Breadsmith, you know they always have samples out to taste of all their goodies.  One of their most popular treats is their Dolci Cello.  Dolci meaning "sweet" and cello, while I thought had some great meaning, only means "cello" like the musical instrument.  Go figure!
Anyway, I've tasted these before while visiting the store, but never purchased a bag for fear I'd eat the entire batch in one sitting.  This time after tasting one morsel and inspecting it, I said to the woman behind the counter that they looked like gnocchi, and asked if they make these at the store? She said, "yes they do make them here, but we don't make the corn puffs, those we purchase at the stores in the bag, and put a caramel coating on them."  Hmmm, I thought!  So when I got home, I went online only to discover a recipe for them.  I was shocked to see how simple these were, and could only imagine how much my family and friends would love these.  Of course, they'd hate me as well, because literally they're addicting!
If you're looking for a treat that will have your guests asking for more you have to try Dolci Cello – a buttery, caramel coated corn puff.  NO it's not healthy at all, but it's so good.  Hey, it's the holidays – live it up, splurge and enjoy!
You might even want to have little gift bags of Dolci Cello to send home with everyone – they're that good!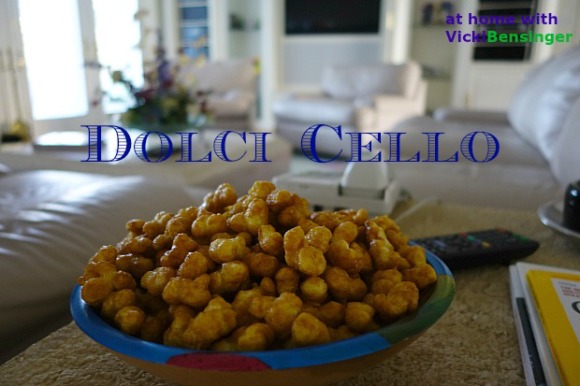 Dolci Cello
Ingredients:
1 (8 ounce) bags puff corn (I used O-KE-DOKE plain flavored)
1 cup butter ( do not substitute)
1 cup brown sugar
1/2 cup light corn syrup
1 teaspoon baking soda
Directions:
Place corn puffs in a large roaster pan.
In 2 quart sauce pan bring the butter, sugar & corn syrup to bring to boil, then cook for 2 minutes.
Add the baking soda- this will cause the caramel mixture to foam up.
Stir well and remove from heat.
Pour over corn puffs in roaster, and bake in 250F degree oven for 45 minutes, stirring every 10-15 minutes.
Remove from oven, spread out onto parchment paper to cool.
Serve, place in covered container or zip-lock baggie for later, or place in Cello bags to give as gifts.
Enjoy!!!
Note:
The Breadsmith sells a 10 oz bag for $8.75.  I purchased an 8 oz. bag of corn puffs for $2.99 and after adding the ingredients above, and baking, they weighed 1 pound 8 oz.  I'm pretty sure that didn't even cost $8.