Red Velvet Gooey Butter Cookies #fbcookieswap
Have you heard of the Great Food Blogger Cookie Swap?  You haven't?  This is the 3rd year for the cookie swap, and with 619 participants in 8 countries this year, we teamed up with Cookies for Kids Cancer and raised over $13,000. 
Each food blogger received 3 mystery names to send their cookies to – boy oh boy did I get some yummy cookies.  Plus it was so much fun getting 3 little packages filled with goodies.  Of course the best part was knowing that we were able to raise $13,000 to help children with cancer, and hopefully those funds will help to brighten their holidays!
With my crazy holiday schedule I selected a cookie I know is delicious and quick and easy to prepare.  Living in St. Louis, Missouri, home of the Gooey Butter Cake I opted to make Red Velvet Gooey Butter Cookies.  You might recall this past summer I made Gooey Butter Cookies with Coconut and Dark Chocolate Chips.  Both gooey and velvety, you just can't beat them!  I thought the Red Velvet Gooey Butter Cookies would be perfect for the holidays since they're red.
If you need to add more cookies to your party table, bring dessert to a party or going to a cookie swap, try these – everyone will love them.
Thanks to Lindsay of Love&OliveOil and Julie of TheLittleKitchen for hosting
Here's the recipe, I hope you love them too……..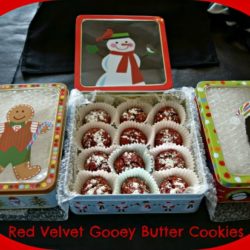 Red Velvet Gooey Butter Cookies
Ingredients:
1 box Red Velvet Cake Mix (I used Duncan Hines)
1 - 8 ounce package cream cheese, softened
1 stick unsalted butter, softened
1 egg
1 teaspoon vanilla
Powdered Sugar
Directions:
Combine cake mix, cream cheese, butter, egg and vanilla with an electric mixer.
Cover and place in refrigerator for at least 1 hour or overnight.
With a cookie scoop or teaspoon, take batter and roll into a ball - walnut size.
Roll in powdered sugar and place on parchment or foil lined cookie sheet.
Place cookies in a preheated 350F degree oven for 10-12 minutes or until edges start to slightly brown.
Remove from oven.  If desired sprinkle with more powdered sugar and serve.
Enjoy!!!