Microwave Meyer Lemon Curd
I've been a huge fan of Lemon Curd for years.  The fact is I avoided it forever because the word "curd" sounded disgusting – a childhood thing!  Once I had it I was in love.  You'd find me eating it right off the spoon. 
Then one day I made it – WOW – it was even more amazing fresh, and chilled.  The lemon curd I've been making for years has butter in it and requires you to stand over the stove for 30 minutes.  It's outstanding but, there isn't a time I eat it where I don't feel guilty from the calories I'm consuming. That is until recently.
My blogging friend Sue over at The View From Great Island turned me on to this recipe.  Since then I've seen it many places.  Sue's version however doesn't use butter as an ingredient, just simply sugar, lemon juice and eggs. I commented on her blog about that, but decided I had to try her recipe.  After all if it tasted great without butter, I could eat more of it.  Of course, there's always the sugar I had to feel guilty about, but not the calories as much!
Low and behold I was hooked.  In fact, since posting my comment on her blog I've made this 4 times – it's that good!  If you wanted to add butter to this recipe I'd add a 1/3 of a cup for a creamier texture and mellow flavor.  However, without it, I think it still tastes great!  I also used Meyer lemons since they're in abundance right now.  If you've never had a Meyer lemon they're not tart like the traditional lemon, that's because they're a cross between a lemon and an orange.
This past weekend my kids were both in town so I wanted to make a birthday cake to celebrate my birthday next week, since my son will be traveling.  I decided to create a cake that I could add lemon curd to.  It was wonderful, and I think this would be perfect for celebrating Easter.
I'll be sharing that recipe with you later this week, so be sure to check back.
In the meantime,I hope you'll try this Meyer Lemon Curd.  If you can hold off eating it, you can use it on Thursday to make my cake, or make another batch.  You'll see it takes no time at all to whip it up.
If you love this recipe, then try this technique with another type of citrus – it's sure to be a winner as well!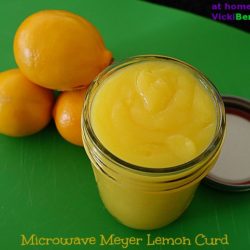 Microwave Meyer Lemon Curd
Ingredients:
3/4 cup granulated sugar
1/2 cup Meyer Lemon juice
3 large eggs, at room temperature
Directions:
Whisk the sugar and juice together in a medium sized microwave safe mixing bowl.
Whisk in the eggs, making sure to get them completely broken up and smoothly incorporated.
Put the bowl in the microwave and set for 4 minutes at full power.
Whisk the mixture after the first and second minute. Then whisk every 30 seconds.
The curd is ready when it has thickened. It will get lighter in color and be like a thin pudding.
Pour the curd through a mesh strainer and then into a jar or jars. Let cool and then cap and refrigerate.
The curd will thicken further as it chills.
Note: 
All microwaves have different wattages; yours could be stronger or weaker, so adjust your cooking time if that is the case. It will be done when the curd gets thick.
If using other types of citrus then use ½ cup juice as stated above and 1 Tbsp lemon juice (for all curds EXCEPT lemon)
For a creamier texture and more mellow flavor add 1/3 cup butter to the ingredients.