No-Bake Berry Tart for Independence Day!
I enjoy baking, and although I find myself rarely baking anymore, this No-Bake Berry Tart is the perfect dessert to serve for Independence Day! 
My No-Bake Berry Tart whips up in no time. What I love most – I don't need to put it in the oven or on the stove.  Just blend ingredients, layer, and refrigerate.
I got the idea for this particular tart from my Fresh Fruit Tart. For that tart I baked the crust. Then I remembered the No-Bake Strawberry Chocolate Tart I made in 2015.  I loved that Oreo crust and of course the smooth rich chocolate piled with fresh berries.
Having made the crust with Oreo's I decided to try this Berry Tart with a white Oreo crust. My intent was to use plain white Oreo's, but when I saw the Lemon Oreo's I figured why not! If you're not a fan of lemon though then just use the vanilla or one of the many new varieties – Piña Colada sounded pretty tasty too!
Once you try this recipe feel free to adapt it any way you desire.  I know you're going to love this and will find it your go to dessert, time after time!
Enjoy!!!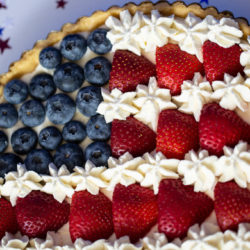 No-Bake Berry Tart for Independence Day
My simple No-Bake Berry Tart for Independence Day couldn't be easier.  Try it, you'll love it!
Ingredients:
Crust:
32 Oreo cookies, lemon or plain
1/2 cup butter, melted
Filling:
Topping:
1 (6 oz.) container Blueberries
1 (16 oz.) container Strawberries, slice in half lengthwise
Apple jelly, if desired for shine
Whipped Cream:
Equipment:
Directions:
Crust - Place Oreo cookies into the bowl of a food processor and blend until crumbs form. Add melted butter and pour over the crushed cookies.  Process until evenly moistened.  Press cookie mixture with the back of the spoon and your fingers where necessary, into the bottom and edges of a 10-inch round tart pan with removable bottom.  Place in freezer while you prepare the filling, about 5-10 minutes.
Filling – Blend cream cheese and marshmallow cream until smooth.  Spread over pie shell.
Topping – Lay sliced strawberries on the filling, in a straight line across, as shown in the photo leaving room at the top for the blueberries (stars). Repeat with the strawberries leaving about a 1-inch space between each row. Fill in the square with fresh blueberries.
Whipped Cream - Whip heavy cream with powdered sugar and contents of vanilla bean or 1 Tbsp. vanilla bean paste until stiff peaks form. Place into a pastry bag fitted with a large star tip. Then with the pastry bag squeeze whipped cream stars in between rows of strawberries to fill in gaps. (see photo)
Optional: Take 1 teaspoon of Apple Jelly and heat in the microwave for about 15-20 seconds.  Remove, stir and add a touch of water to thin the jelly.  With a pastry brush, gently dab a thin layer of the jelly over the fruit to create a glaze be careful  not to get on the whipped cream.  Refrigerate until ready to serve.
Note: This recipe can be adapted any way you like. Use whatever fruits you desire, oreos, and tart pan, whether round, rectangular, heart-shaped, etc.
Hungry for more? Savor these!
No-Bake Strawberry Chocolate Tart
Frozen S'mores for the 4th of July