Homemade Natural Grout Cleaner
Have you been spending a fortune on Grout Cleaner and breaking your back scrubbing your floors, or hiring companies to clean the grout on your floors and walls?
For years we've been a slave to our kitchen floor, hunched over for hours on end at least twice a year to scrub and clean our grout so it looks like new. 
Last year we even hired a company to come out to the house to clean the grout at the price of $500! We were so sick and tired of cleaning it we hoped they would do a better job.  Unfortunately within the month the grout looked the same, and I found myself calling the company to come back to fix it – on their dime.
I know having 2 dogs made it challenging to keep the floor pristine, but the grout started looking black instead of cream. Plus lets face it, the kitchen is the most popular room in the house and right off the garage, so most everyone in the family would enter by walking through the kitchen. Any room with heavy traffic is bound to need more cleaning – right?
Cleaning the grout on our kitchen floor has become a laborious task, but MUST be maintained on a regular basis.  Heaven forbid if we cleaned it less than 2 times a year it would look revolting.  Cleaning the grout more often would be ideal, but who can do that without hiring someone?
I even purchased a steamer to try and maintain the kitchen floor, but that wasn't working.  So when I read about this Homemade Natural Grout Cleaner in The Magnolia Journal Magazine, from the TV personalities of The Fixer Upper, Chip & Joanna Gaines, I knew I had to try it. I figured I had nothing to lose.
By the way, if you've never seen The Fixer Upper, and are fans of shows where they fix up old homes and turn them into luxurious abodes, you've got to watch The Fixer Upper.  Plus Chip & Joanna are a fun couple with darling children.  The show is fun, entertaining, and full of great ideas!
With just three simple ingredients – two I had in my pantry, and the other I found at Target.  I couldn't wait to go home to create this Homemade Natural Grout Cleaner and hopefully remedy my filthy grout.
OMG!  Literally it took all of 3 minutes to whip up the Homemade Natural Grout Cleaner in a container.  Then I decided to use one of my squirt bottles for ease of dispensing the cleaner directly onto the grout lines – it worked perfectly!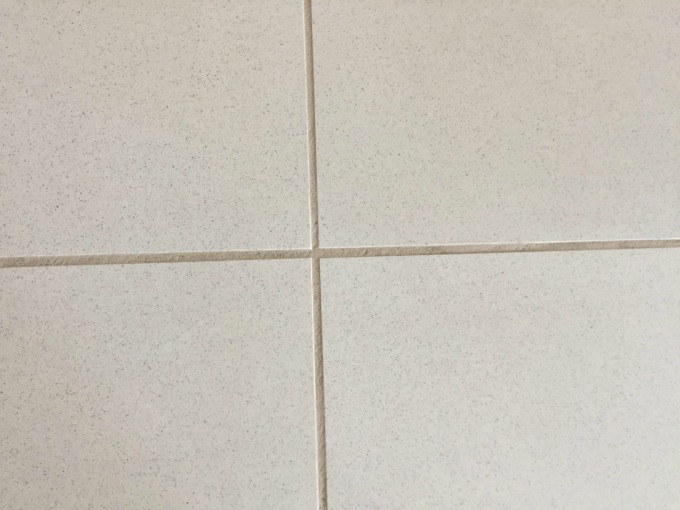 Here's what I did:
I put the ingredients in a container with a wide mouth and blended everything together until it was smooth.
Then I poured that into the squirt bottle, and carefully shook the bottle with my finger over the opening so nothing would shoot out.
After sweeping my floor to remove any debris, I took the squirt bottle using the grout lines as a guide, and squeezed the mixture in sections, leaving the grout cleaner to set and do the job for 15 minutes.
With just a slight scrub with a brush, I then washed each line off with a wet sponge.
To my amazement our grout looked brand new!

(To the right (slightly blurry) is the clean grout and above the bowl is the dirty grout – see the difference?)
For years we would use Soft Scrub with Bleach.  Most recently I purchased Goo Gone for Grout but that did a marginal job.  However, this concoction was unreal!  My pictures don't do the floor justice.  When I exclaim the sections I did looked brand new – I mean it!
I still despise cleaning the grout on our kitchen floor because it's large. However, now I'm not dripping sweat, or end up with a sore back, neck, and arms – basically crippled for several days after. Instead, it's a piece of cake!
If you're tired of searching for a  grout cleaner that does the trick, look no further.  I'm blown away at how incredibly clean my grout is now.  I wish you could come over to see it.  Of course, I haven't finished my entire floor yet, but made an extra large batch to finish off the job – hopefully!

(Before)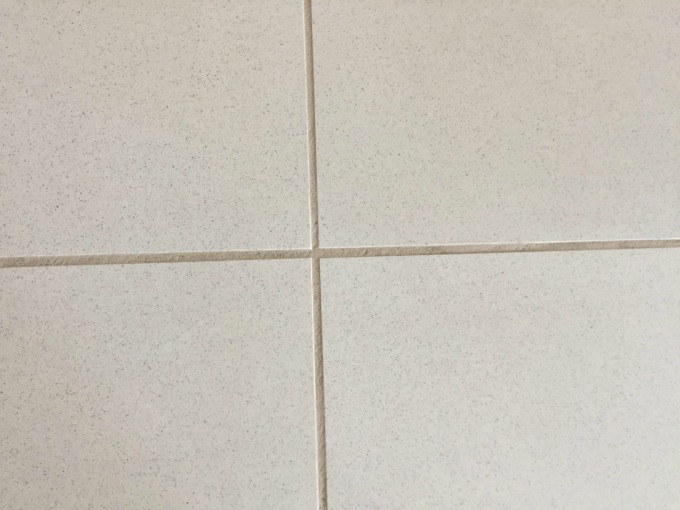 (After)
Tip: The recipe for Homemade Natural Grout Cleaner below is a basic recipe.  Depending on the size floor, or wall you need to clean, will determine the amount to duplicate this recipe. I'd suggest starting with a small batch.  If you're as satisfied as I am with the Homemade Natural Grout Cleaner, then you may want to purchase the ingredients in larger quantities.
I hope you'll share your comments below if you try the Homemade Natural Grout Cleaner on your floors and walls.   I'm certain you'll be blown away with the results, just as I am.
Do you have a proven method for cleaning your grout?  If so please share in the comments below!
Here's the recipe for Homemade Natural Grout Cleaner……………..
Homemade Natural Grout Cleaner
Try this Homemade Natural Grout Cleaner for the cleanest grout ever!  Trust me, I've tried my share and slaved over my floor - but not anymore since I discovered this Homemade Natural Grout Cleaner!
Ingredients:
Directions:
Mix ingredients in a resealable container.
For ease of dispensing onto grout place in a squirt bottle.
Shake well before applying onto grout.
Leave on for 15 minutes or longer.
Gently scrub with a brush or grout brush.
Wipe off with a wet sponge.
Note: Dr. Bonner's Castile Liquid Soap comes in a variety of scents.  Choose your desired scent.