Homemade Irish Cream Whisky!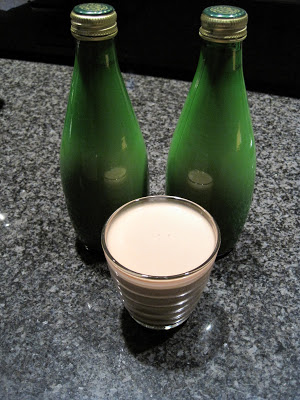 With the holidays just days away, many of us will still have another party to attend or gift to give. If you're like me, I always like to bring a hostess or service provider (hair dresser, manicurist, etc) a gift. However, the expense of gift giving during the holidays can sometimes be daunting on the pocketbook.  That's when a homemade gift is perfect and more personal.
I enjoy creating gifts for the holidays.  From homemade plates, candies, cookies and even wreaths – the list is endless.  One of my favorite homemade gifts is Irish Cream, a unique gift that almost everyone loves!  I posted this last year but thought I'd share it again.
I've never been much of a drinker but always loved Bailey's Irish Cream, especially in my coffee after dinner. There's something about the flavor that for me, is the perfect ending to a perfect meal. So of course when I found out I could make Irish Cream I thought, why not try it!
I couldn't believe how delicious it tasted. In fact, I think it's even better than the store bought Bailey's Irish Cream.  Plus if I want to, I can add as much or as little Whisky to the recipe as I like.
Whether you serve it straight up on the rocks, over coffee, or even in a milk shake it's amazing! Your friends will be begging you for this recipe.
Best of all, you can make several bottles for gifts, at a fraction of what it would cost to purchase Bailey's Irish Cream in the store.
So what are you waiting for? Try this recipe today, if not to give as a gift, then for yourself, or as a special treat for St. Patrick's Day. I'm sure you'll agree with me, it's heavenly!
Oh, and one other thing – if you're not a fan of almond extract try using coconut. It gives it a whole new flavor that you may like even better.
Homemade Irish Cream Liqueur
1 cup of Jameson's Irish whiskey (or any Irish whiskey you like)
1 (14-oz.) can sweetened condensed milk
1 cup heavy cream
2 Tbsp. chocolate syrup
2 tsp. instant espresso
1 tsp. vanilla extract
1/2 tsp. almond extract
Place all ingredients except the whisky in a container and blend. Once blended add the whisky and blend again. That's all there is to it.
Before pouring into bottles you may want to strain the Irish Cream through a fine mesh strainer to be sure there aren't any larger coffee grains left.
This recipe was able to fill 2 (330 ml) Perrier bottles. They come in a 4 pack. I just removed the labels and washed them well. Then using a funnel, pour the Irish Cream into the bottles and tie a bow around it stating what it is, that it needs refrigeration, and when it expires.
This is best served after it's had time to chill in the refrigerator. The homemade Irish Cream can be stored in the refrigerator for up to one month. However, it's so delicious I'm sure it won't last that long.
Enjoy!
Other homemade gifts you might like to try: