Holiday Fun with Kids!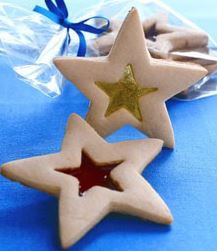 Stained Glass Cookies
On Monday I shared with you great Homemade Gifts from The Kitchen to give for the upcoming holidays.  I also promised that I'd share more recipes to serve your guests, plus special treats to create with your children if they'll be home from school……
There's nothing worse than being snowed in with nothing to do.  The kids are bouncing off the wall and you're ready to hit your head against the wall, but WAIT!!!  Don't panic – here are a few fun recipes that will keep your kids entertained………
My kids two favorite things to do on a snowy day was to make Stained Glass Cookies and Homemade PlayDoh.  While the cookies can be prepared and ready to eat in an hour or less the PlayDoh can be played with for hours on end.  Whether they're home for the holidays, stuck indoors on a snowy or rainy day, or even home sick – homemade PlayDoh is fun for everyone, all the time!
Here's a fun simple recipe your kids can create with everyone's favorite candy M&M's
On Monday I'll share more holiday recipes, so be sure you stop back by.  Until then……have a great weekend!