Tuna Poke with Sesame Crisps
My family loves sushi, we eat it at least once a week.  In fact, of all the culinary classes I teach, by far my sushi class is number one.
If purchasing at a restaurant  be sure they have an A+ rating, which is merely insurance (although no guarantee) that your sushi will be the freshest it can be.  If purchasing to prepare at home, I suggest only purchasing from a reputable fish market.  Ask to smell the fish – it should not smell like fish, but have a fresh smell, like the sea.  Look for fillets that are bright in color, not dull, darkened or dry looking. 
Since saltwater fish can contain parasites that aren't killed off in a raw preparation, saltwater fish are generally considered risky for home made sushi consumption. Eating sashimi made from saltwater fish that is either not fresh enough or contains parasites, puts the diner at risk for food poisoning and intestinal distress.  Always ask your fishmonger when they received the sushi and when they recommend it be served.  Typically that day or at latest, the next day.
To store your sushi, place in a glass container, covered in the refrigerator, or on ice until ready to prepare your dish and serve.
Most of the time when dining out, we purchase sushi rolls and occasionally we'll order sashimi – raw seafood that is sliced thinly, as an appetizer.  I don't typically serve sushi at home, but this past week while at the fish market they just received some beautiful Blue Fin Tuna.  My fishmonger talked me into it, so I decided to make a dish I'd had a couple years ago from a class Macy's put on, by a local restaurant.  It was so memorable I've thought about it often, since then.  This recipe is full of flavor, slightly sweet and mildly spicy.  If you're a fan of sushi, I think you'll love this recipe.
With all ingredients on hand and prepped, Tuna Poke takes only minutes to prepare.
Note: I don't recommend this if you're pregnant or if you have an autoimmune disease, but of course as always, ask your physician.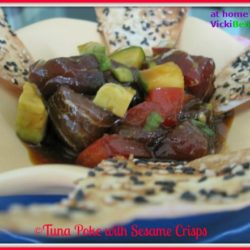 Tuna Poke with Sesame Crisps
Ingredients:
For the Sauce:
1/2 cup Soy Sauce
2 Tablespoons Chili Oil (I used La-Yu)
1 cup Eel Sauce/(Unagi sushi sauce)
1 Tablespoon Truffle Oil
For the Poke:
2 pounds #1 Sushi Grade Tuna (cut into 1/2 inch cubes)
1/4 cup English Cucumber, medium diced
1/4 cup red onion, medium diced
1/4 cup Green Onion, medium diced
1/4 cup Avocado, medium diced
1/4 cup Tomato, medium diced
1 teaspoon Hawaiian Sea Salt
Directions:
In a medium sized bowl whisk together soy sauce, chili oil, eel sauce and truffle oil.
Add remaining ingredients to bowl, dress with poke sauce and mix to combine.
Serve with Sesame Crisps.
Note: I always do my homework on the fish I purchase prior to, or while at the store, with my Monterrey Bay Aquarium Seafood Watch App.  Unfortunately I didn't this time.  While doing a little research to post this article, I realized that Blue Fin Tuna is on the endangered species list.  I was disgusted with myself for not checking, and  purchasing it.  I wanted to share this recipe anyway, which can be used with other sushi grades of tuna.  However, be sure to download the Monterrey Bay Aquarium App for the next time you purchase fish.  It's such a valuable tool – if you don't forget to use it!
Later this week I'll post the recipe for the Sesame Crisps.  They're so delicious you'll serve them with everything!
Enjoy!!!