Strawberry Balsamic Jam and Peach Crostata!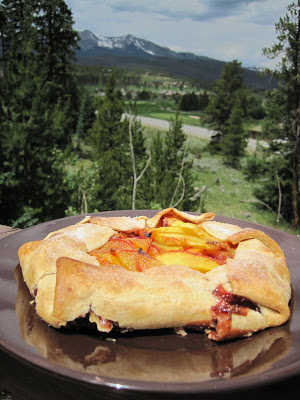 There's nothing as simple as making a crostata.  This italian rustic freeform dessert is perfect anytime of the year.  If company is coming over and you want to prepare an effortless yet delicious dessert to serve with coffee this is ideal.
While visiting the blog Scrambled Henfruit last week I happened the come across a recipe for Strawberry Jam with a Twist.  Of course I was intrigued, and when I viewed the recipe found that the twist was Balsamic Vinegar a favorite ingredient of mine, and a recipe Scrambled Henfruit found on the blog Savory Sweet Life.
The world wide web is wonderful for sharing and finding recipes and ideas.  One recipe leads to another and before you know it your meeting total strangers that have the same interests as you do.  I love it!
Anyway, when I saw this recipe I knew I wanted to make it.  I've actually never attempted to make jam before but I had all the ingredients at hand since it didn't use any pectin. The National Center for Home Food Preservation has guidelines for cooking without pectin that you might find helpful.
Since my husband goes through jars of Strawberry Jam I figured why not try this and if he likes it, then I'd have more fun making batches of Strawberry Balsamic Jam for him than purchasing jar after jar of the ready-made varieties.
The recipe made a small amount so it wasn't necessary to "can" it, which thrills me.  Since that would take a whole other lesson that I wasn't in the mood to tackle. However, uncanned jam will keep in the refrigerator for up to 2 weeks.  Here's more information if you'd like to learn how to can jam.
Once I made the jam, I decided that I'd make a crostata using the Strawberry Balsamic Jam and the White Peaches that I had just purchased.  Together the two were a marriage made in heaven.  Warm out of the oven it was everything I had imagined and then some.  To say the least, it didn't last the day.
Strawberry Balsamic Jam and Peach Crostata
serves 6
Ingredients:
2 cups chopped strawberries
1 cup sugar
2 tablespoons balsamic vinegar
2 large peaches, cored and sliced into 1/4-inch slices
1 (9″) premade Pillsbury pie crust
3 tablespoons sugar
water
1 tablespoons sugar
Directions:
Strawberry Balsamic Jam:
Combine strawberries, 1 cup of sugar and balsamic vinegar in a saucepan and bring to a boil.
Reduce heat and simmer uncovered for 20-30 minutes until sauce is a honey-like consistency or 220 degrees on a candy thermometer.  (For altitudes other than sea level
see this chart for guidelines
).
Remove from heat and cool.  If desired you can run through a blender to puree once completely cooled.
Crostata:
Slice fruit and place in a bowl with 3 tablespoons of sugar.  Mix together and set aside while preparing the dough.
Place parchment or foil on a countertop and roll out one 9-inch premade Pillsbury pie crust to approximately 12-inches. Place all on a pizza pan or sheet pan.
Spread approximately 3 tablespoons of the jam over the surface of the dough as if spreading sauce onto a pizza, leaving a 2-inch border all the way around.
Add the sliced peaches to the top of the jam and carefully pull up the sides of the dough over the edges of the fruit.  Leave an opening in the middle. Be careful not to tear the sides of the dough or fruit juices will ooze out during cooking.
With a pastry brush, spread water over the top of the dough and then sprinkle with 1 tablespoon of sugar.
Bake at 400 degrees for 50 minutes.
Remove from heat and allow to cool at least 10 minutes.  Place on serving platter and serve slices warm or at room temperature.
Note:  You can make any type of crostata using your favorite ingredients.  Simply follow these guidelines and you're sure to have a perfect tasting crostata everytime.
Enjoy!
(For those of you that have been following my blog for awhile, what type of recipe would you like to see me post or what topics would you like me to discuss?  Your feedback is important to me).