Sesame Seared Tuna with Asian Vinaigrette
The weather here in the Midwest is incredible right now!  Cool and sunny with brisk winds make this September 6th, 2011 feel like fall has arrived, along with my allergies.  The mold count must be sky high.
Today for the first time since June we are empty nester's again.  After spending time in the mountains of Colorado with our kids going back and forth for their job and school, then back to Missouri where my daughter had her short summer break and back to school again.  Here I sit at my computer, with both dogs under my feet, while I run my toes through their fur. 
Trek, Cody (my dogs) and I spent a lovely day outdoors taking walks and soaking up the sun and fresh air.  While this evening we're all relaxed after having a refreshing salad that I made for my husband and I.  My husband loves Tuna, and although we don't have it too often I thought it sounded perfect for this evening.
I went by Bob's Seafood to pick up some sushi grade tuna and was it expensive – $28.95 a pound!  I purchased 3/4 of a pound which was just perfect to go on top of the greens.  I didn't feel like fussing too much for dinner so this was quick, easy and I used ingredients at hand, with the exception of the tuna.
We both enjoyed this light and satisfying meal.  I hope you do as well if you try it.
Sesame Seared Tuna Salad with Asian Vinaigrette
serves 4 (even though I just made enough for 2)
Ingredients:
2 tbsp. white sesame seeds
2 tbsp. black sesame seeds
1 1/2 tsp. fresh ground pepper
1/2 tsp. cumin
1/2 tsp. kosher salt
1 pound tuna, cut into 4 pieces
2 tbsp. sesame oil
4 cups salad greens
***********************************************************************
Asian Vinaigrette
makes 1 1/2 cups
Ingredients:
2 limes, juiced
2 tbsp teriyaki sauce
1 tbsp light soy sauce
2 tbsp honey
1/8 cup extra-virgin olive oil
1/4 cup sesame oil
Combine first 4 ingredients and whisk together.  While whisking, slowly add the olive and sesame oil. 
***********************************************************************
Directions:
On a small plate, place the white and black sesame seeds, ground pepper, cumin and kosher salt.  Mix the ingredients together.
Roll each piece of tuna in the spice mixture so that it is thoroughly coated.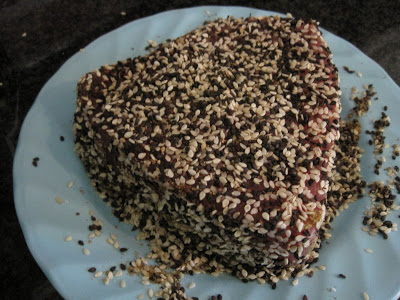 In a saute pan place the sesame oil and heat, until hot.
Add the coated tuna and cook for 1 to 1 1/2 minutes on each side or until they are seared.  (I prefer my tuna rare.  If you like yours medium, cook for approximately 2 minutes per side).
Slice each piece of tuna diagonally across the grain.  On each of 4 individual salad plates, place the salad greens.  Sprinkle on some of the Asian Vinaigrette.  Place the tuna slices on top.  Serve the salad with the remaining Asian Vinaigrette in a ramekin, on the side.
Enjoy!