Quick and Savory Chili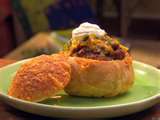 SuperBowl is just 15 days away. If your family is like mine, they will tell you the day of the game that they are having friends over and ask you to make something. Then we're scurring around trying to drum up something to serve everyone. Well fear no more I have the perfect quick and easy chili recipe that's sure to put a smile on everyone's face.
You may look at these ingredients and wonder why should I make this? Trust me, not only is it delicious but you literally can toss it together in 15 minutes or less and forget about it. My family loves this chili and believe me I have many different varieties that I make that take me an hour or more to put together. This is a great simple recipe that will allow you to enjoy the game as well.
Quick and Savory Chili
Serves 6
2 lbs. ground beef or turkey or your favorite meat mixture
14.5 oz can diced tomatoes with green chilies
29 oz can diced tomatoes with roasted garlic and onions
29 oz can tomato sauce
14.5 oz. can chili beans (I like the medium heat, but use what you like best)
1/2 cup sugar
1/4 cup BBQ Texas Hot Sauce (Super Smoker's and KC Masterpiece make one, and there are other brands as well. Any will do)
1/2 cup Kansas City style BBQ sauce
Cook the ground meat to medium rare; drain and then add the remaining ingredients.
My family prefers I make it with ground turkey breast. If using, then spray your stock pot with Pam so it doesn't stick.
I have found that as soon as I put the ground turkey in the pot, if I add all the ingredients and stir, the turkey meat crumbles up. Then it's more like ground meat, instead of in clumps, like ground turkey breast typically tends to do. In my opinion it tastes much better this way.
This can be ready within a 1/2 an hour but without question the longer you cook it the better it gets. You can cook it for 2 hours or all day or even put it in your crock pot for the day. Either way your going to have a delicious quick and easy chili.
Serve it in bread bowls if you like with cheddar cheese and sour cream.
If you try this recipe please let me know what you think. I know you'll be pleasantly surprised.
Not every wonderful dish has to take hours to prepare.
Enjoy and I hope your favorite team wins!