Pina Colada Granita
Today is National Pina Colada Day!  In honor of the day I'm sharing an older post that I just happen to whip up for the day. 
I love Pina Colada's, in fact, as a little girl my family would always go away for the Christmas Holidays to either Florida or Puerto Rico.  So every year we would have lots of virgin Pina Colada's.  I grew loving them so much, especially having spent quality time with my family (Mom, Dad, and two sisters) during the holidays.
When I finally reached the age of 21 I could have had a juiced up Pina Colada, but for some reason it just didn't appeal to me.  However, in this recipe I share, feel free to add some Rum if you like.
Since it's summer I thought I'd make a Pina Colada Granita, which is a type of Italian dessert, similar to sorbet or frozen flavored ice.  The ingredients are simple and quick to put together.  I've added a touch of lime which lends a special touch.
I would suggest making this a day ahead to insure it gets done in time for serving.
Follow these simple steps and guaranteed you'll be in Pina Colada and Granita heaven.  This cool refreshing treat is just what the doctor ordered on a hot summers day.  Oh and one other thing, you can use this technique to make any type of Granita that you desire.
Pina Colada Granita
A light, refreshing and chilling dessert to celebrate National Pina Colada Day or any day!
Ingredients:
1 1/4 cups water
2/3 cups granulated sugar
1 (13.66 oz.) can unsweetened coconut milk (2 cups)
1/2 cup pineapple juice
juice and zest of  1  lime
Directions:
1. Make simple syrup by adding water and sugar to a saucepan.  Bring to a simmer and cook until sugar has dissolved.
2. Remove pan from heat and allow to cool, then stir in coconut milk.
3. Add pineapple juice, zest and juice of one lime and blend.
4. Freeze Granita:
5. Pour the granita into a wide and shallow container.  Cover with foil and place in the freezer for 1-2 hours until edges are frozen.
6. Take container out of freezer and scrape the ice with a fork as though you were shredding it.
7. At this point you will only be able to do the edges since the center will still be gushy.  Place back into the freezer and repeat this method every 30-60 minutes until you have been able to scrape the entire mixture into ice shavings or ice crystals creating your Granita.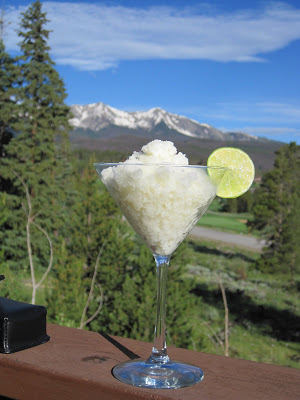 8. Serve in a fancy glass with a slice of lime and a splash of rum if desired.
Enjoy!!!