Kobe & Smokey Cheddar Burger with Beer & Hoisin Caramelized Onions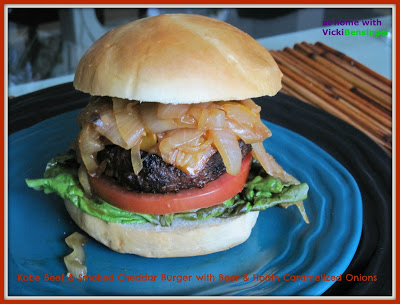 There's nothing like a great burger prepared on the pit but, as we all know, grilling the perfect burger can be challenging.  Back in 2011 I posted some grilling tips, in the event you need to hone your skills for the upcoming season.
That said, even if you are a master at the grill, a burger is just a boring burger unless you know how to jazz it up, changing it from ordinary to extraordinary!
My favorite burger is a Kobe Beef Burger!
What's Kobe Beef?
Kobe beef refers to the meat originally cultivated from the Wagyu cattle breed in Kobe, a Japanese region. The Wagyu cattle breed produces a more tender, flavorful meat than other cattle breeds. Although Wagyu cattle are now raised in areas other than Japan, such as the United States and Australia, it is available in a limited quantity compared to other beef, and is considered a delicacy.
Kobe beef provides a rich, complex beefy flavor, it's marbled with fat and has a looser texture than Angus beef.  Although the meat has a higher fat content, its ratio of monounsaturated fat over saturated fat is higher than Angus meat, thus making the meat a healthier choice.
Since the fat content is higher, you have to be careful not to overcook the Kobe burger or all the flavorful goodness will disappear with the cooking. Therefore, special care should be used when grilling.
Read my recipe below for tips, and how to jazz up my Kobe Beef & Smokey Cheddar Burger with Beer & Hoisin Caramelized Onions on a Brioche Bun!
Kobe & Smokey Cheddar Burger with Beer & Hoisin Caramelized Onions on a Brioche Bun
If you're a burger fanatic you must try my Kobe & Smokey Cheddar Burger with Beer & Hoisin Caramelized Onion on a Brioche Bun for an experience you'll never forget!
Ingredients:
Kobe Beef:
1-1/3 lbs. Kobe Beef, ground
salt and pepper
Onions:
2 Tbsp. canola oil
½ tsp. butter
4 large yellow onions, sliced
2 cloves garlic, crushed
2 Tbsp. brown sugar
¼ cup hoisin sauce
½ cup beer
1 Tbsp. tomato paste (tube)
1 Tbsp. soy sauce
freshly ground salt and pepper to taste
Brioche Bun
Directions:
Kobe Burger: Remove Kobe burgers from refrigerator - set out until they reach room temperature, insuring even cooking.

Preheat grill, and place burgers  on "medium high" heat.  To enhance their flavor, season with only salt and pepper.

Grill Kobe beef until it reaches an internal temperature of 145F-150F degrees using a 

temperature probe

, appproximately 5 minutes per side.  Lower heat once flipped to avoid flare-ups, and continue cooking to desired temperature.  For the juiciest and best flavor cook until medium-rare.

Caramelized Onions: Heat oil and butter in a large sauté pan.  Add onions, S&P, cook 10 minutes, then stir in brown sugar.
Combine garlic, hoisin, beer, tomato paste, and soy sauce.  Once blended, add to onions. Continue cooking for approximately 15 minutes until liquid is reduced and glossy, stirring occasionally.  Keep warm until ready to serve.  Makes 2 cups
Serve on Brioche Bun with choice of sides.
ENJOY THIS DELICIOUS BURGER!!!