Holiday Cooking

Fall has officially arrived. The weather is getting cooler and the leaves are starting to change colors. Before we know it Thanksgiving will be here. Have you taken the time to think about what you're serving this year? If you live in or around the St. Louis area, I've got a great Thanksgiving menu that I'd love to teach you.
Are you tired of the same old turkey year after year? Does your family only like the breast meat on a turkey? Are you running all week and don't have time to cook all day?
If you answered yes to any of these questions this menu is for you.
Popovers
Butternut Sqush Bisque
Stuffed Turkey Roulade
Decandent Mashed Potatoes
Roasted Veggies
Caramel Apple Cheesecake
To find out more about this class please contact me at vkb2@hotmail.com.
One of the items on this menu is Butternut Squash which is a favorite of mine. If you've never tried it, it's delicious and sweet.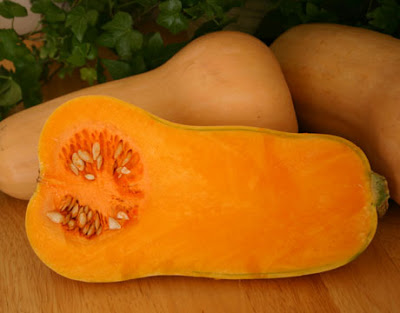 Here are a few facts you might like to know about this luscious vegetable:
Butternut Squash is a winter squash that has a hard, thick skin with seeds. It has a deep yellow and orange flesh that is firmer than that of summer squash therefore requiring a longer cooking time. The best time to get a butternut squash is from early fall through winter, although it's available year round.
When selecting butternut squash you want to make sure that it's heavy for it's size and has a hard, deep-colored rind, free of blemishes or moldy spots. This hard skin protects the flesh and allows it to be stored longer than summer squash. It doesn't require refrigeration and can be kept in a cool, dark place for up to a month and sometimes longer.
Once the seeds are removed the butternut squash can be baked, steamed, simmered or roasted which is my favorite way to prepare it.
Butternut squash is an excellent source of iron, riboflavin and vitamins A and C.
So if you've you never tried this delicious vegetable, next time you're at the grocery store pick one up. With hundreds of recipes online you're sure to find one that suits your taste.