Gourmet Chocolate Caramel Apple!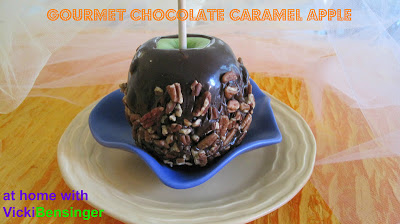 Nothing screams fall to me like a St. Louis  
Merb's Bionic Caramel Apple
.  Ever since I was a little girl I couldn't wait for October to arrive.  I'd march over to the grocery store and pick up a Merb's Caramel Apple, covered in a thick, rich, creamy, gooey, caramel, and coated with fresh roasted pecans.  It's heaven on a stick!
For years I've tried to duplicate their recipe, but this year I decided to create my own decadent apple.  If you love chocolate like I do, then you'll adore my
Gourmet Chocolate Caramel Apple
.  Your dentist will be thrilled you tried one!  
Here's my recipe:  
Gourmet Chocolate Caramel Apple
makes 4-6 apples
Ingredients:
2 cups heavy cream
10 1/2 oz. fine-quality bittersweet chocolate (no more than 60% cacao), finely chopped
1 3/4 cups sugar
1/2 cup  Lyle's Golden Syrup
1/4 cup water
1/4 teaspoon kosher salt
3 tablespoons unsalted butter, cut into tablespoon pieces
6 Granny Smith Apples, stems removed
Special equipment:  candy thermometer
 Directions:
Bring cream just to a boil in a 1- to 1 1/2-quart heavy saucepan over moderately high heat, reduce heat to low and add chocolate. Let stand 1 minute, stir until chocolate is completely melted.
Remove from heat.
Bring sugar, corn syrup, water, and salt to a boil in a 5- to 6-quart heavy pot over 
moderate heat
, stirring until sugar is dissolved.
Boil mixture uncovered, without stirring, but gently swirling pan occasionally, until sugar is deep golden, about 10 minutes.
Tilt pan and 
carefully
(can splatter and burn you)
 pour in chocolate mixture (mixture will bubble and steam vigorously). Continue to boil over 
moderate heat
, stirring frequently, until mixture registers
255°F
 on candy thermometer – about 20 minutes. 
(Times will vary depending on the climate in your room.)
Note: Do not rush this step.  It may feel like it takes a long time for the caramel to reach this temperature, but if you rush it by turning up the heat, you will burn the caramel, and waste all your ingredients.  Be patient, and you'll be thrilled with the results.
Add butter, stirring until completely melted. Pour into a heatproof bowl (do not scrape any caramel clinging to bottom or side of saucepan), and set caramel aside to cool for approximately 5 minutes.
While caramel is cooling, insert candy apple sticks into (center) stem end of apple. Holding an apple by the stick, dip and roll it in the chocolate caramel until evenly coated, letting any excess drip back into the bowl. (If caramel runs off quickly and the coating seems thin, it's too hot.  Let cool a minute longer and try dipping again).
If desired dip coated apples in chopped pecans, toffee chips, or drizzle with melted white chocolate.  Can be refrigerated for several days.
To give as a gift place in plastic gift bag, and tie a ribbon around the stick to keep bag closed until gift-giving!
ENJOY!!!