Peach and Blueberry Crostata
Today is my sons 24th birthday but he's not in town where we can all celebrate together. So in honor of his birthday I decided I'd bake something.
I love all kinds of fruit but peaches have always been one of my favorites. In fact if you can't hear me while I'm eating a peach then it must not be good. My husband can't stand to be around me when I'm eating one. I can't help it but I refuse to let any of the juice escape my mouth and because of that I tend to sometimes slurp the juice which I suppose is a bit noisy and annoying. So I tend to avoid eating peaches in the company of others. I know that sounds ridiculous but it's true.
When I found myself with more peaches than I could eat, and wanting to celebrate my sons birthday today I decided to make a Crostata. With peaches and blueberries on hand plus some ready made pie crust I figured I'd give it a shot.
The ingredients and prep for this rustic freeform tart are so simple. In fact it's the perfect dessert to whip together if you suddenly find out guests are coming over.
Ingredients:
Homemade pie crust or ready-made
3 cups fresh peaches, 1/4 inch sliced, peeled if desired and core removed
1/2 cup fresh blueberries
5 tablespoons sugar
Topping:
water
1 tablespoon sugar
Directions:
Slice fruit and place in a bowl with the berries. Add 5 tablespoons sugar and toss gently to coat fruit. Set aside while prepping the dough.
Place parchment on countertop and roll out dough to approximately a 12 inch circle.
Place fruit mixture in the center of the dough and carefully pull up the sides over the edges of the fruit. Leave an opening in the middle. Be careful not to tear the sides of the dough or fruit juices will ooze out during cooking.
With a pastry brush, brush the top of the dough with water and then sprinkle with 1 tablespoon of sugar.
Bake at 400 degrees for 50 minutes.
Remove from oven and let cool at least 10 minutes before removing from parchment. Allow Crostata to get to room temperature or still slightly warm before serving. Serve alone, with ice cream or whipped cream topping.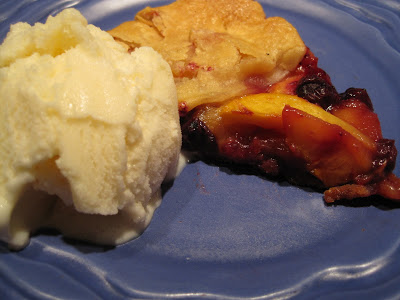 Enjoy!