Homemade Pomegranate Molasses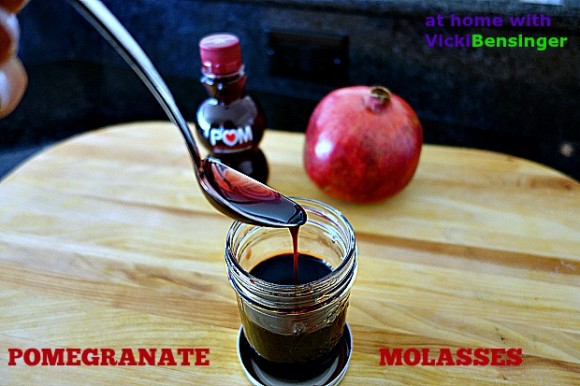 When I was a little girl it was a treat when my mom would pick up pomegranate's at the grocery store for all of us to eat.  There was something magical about slicing open this red orb only to find 100s (actually about 600) of tiny little juice filled ruby arils (seeds).  One by one we would take them out to nibble on as an afternoon snack.  Those were the days!
I still love pomegranate's and while I still find it fun to individually pick the arils from the fruit, now you can purchase them in bags and the juice in bottles.
The pomegranate fruit is low in calories, high in fiber, high in vitamins and high in phytochemicals that may promote heart health and help to prevent cancer.
Many of the benefits of fruits and vegetables are attributable to their rich antioxidant content, which comes from vitamins and other unique plant phytochemicals. Pomegranates provide a number of important nutrients including vitamin K, potassium and a variety of pomegranate polyphenols, making them an important part of a healthy and balanced diet.
Pomegranate juice contains powerful antioxidants: Polyphenol antioxidants that help protect the body against "free radicals" – unstable molecules that cause damage to our bodies over time. Polyphenol antioxidants in pomegranate juice include punicalagin, a polyphenol unique to pomegranates and anthocyanins, which is responsible for giving pomegranate juice its rich red color (Anthocyanins have anti-inflammatory, antiviral and antimicrobial properties.).
Pomegranates are also a good source of Potassium.
With this heart-healthy juice you can create pomegranate molasses; a rich, thick, syrup that can be used for cooking, making sauces plus a myriad of dishes both savory and sweet.  While a 10 ounce bottle can cost as much as $25 in the store, you can easily make your own in just one hour for a fraction of the cost.
Try this simple recipe at home today.  Then over the next week I'll share some recipes you might enjoy using your freshly made pomegranate molasses in.
Homemade Pomegranate Molasses
Ingredients:
16 oz. bottle POM Wonderful 100% pomegranate juice (or other brand)
1/4 cup granulated sugar
1 1/2 Tbsp. lemon juice
Directions:
Combine all ingredients into a saucepan and bring to a boil.  Stir to dissolve the sugar.
Reduce heat and allow to simmer until liquid has reduced by 1/2 and has thickened.  When you insert a spoon the molasses will coat the back of the spoon.
Remove from stove and allow to cool completely.  While the pomegranate molasses cools it will thicken much more.
Once cool place pomegranate molasses into a jar covered with a tight fitting lid.  Store in the refrigerator for up to 6 months.
Note: You can easily double this recipe using a larger POM Wonderful bottle.  I prefer to use the 16 oz. bottle so I can use it up before it goes bad.