Giveaway & How to Make Limoncello!
In June of 2007 we took an extended vacation to Italy. We started in the northern part of Italy – Milan, and made our way to the southern tip of the Amalfi Coast – Sorrento. Exhausted by the end of the month, the Amalfi Coast was the perfect setting for relaxation.
The turquoise waters were breathtaking and crystal clear.  We traveled by boat or ferry to many of the nearby islands for a taste of what each had to offer.  Universal, was the famous Limoncello (Lemon Liqueur), displayed in every shop on the coast in tall skinny neck bottles, with bright yellow liqueur filled to the brim.  Lemons grow in abundance on the Amalfi Coast and Limoncello is just one of the many things they use them for.
A famous culinary school in Ravello on the Amalfi Coast is
Mamma Agata's Cooking School.
 Although I was unaware of her school at the time, I was fortunate enough to discover it online years later.  I hope to make my way back someday soon to take one of her classes, and even arrange a culinary tour where others will join me.
Mamma Agata's cooking course is held in a state-of-the-art outdoor kitchen on a terrace in Ravello. The town of Ravello is located high above the Amalfi Coast, with views that stretch to Capri and beyond.
It is a town famous for its music and culture as well as gastronomic events.
Mamma Agata has a vast experience in traditional southern Italian cuisine.
Her life experience includes cooking for both Italian Heads of State and American celebrities that frequented Ravello in the 1950's and 60's, such as Humphrey Bogart, Elizabeth Taylor, and Jacqueline Kennedy and many others. She has been a private chef for international journalists, writers and politicians such as Susanna Agnelli.
Papa Salvatore married Mamma Agata in 1964.  They met at Villa Civita when Mamma was 14 years old, where Salvatore worked as a driver and a part-time gardener, and Agata worked as a personal cook. He later left Villa Civita to start a career as a waiter in a hotel restaurant.  After much hard work and long hours he became the Maitre d'hotel and continued in the business for more than 40 years.  It was with Salvatore's expertise gained through the hospitality industry that gave their family the essential knowledge, vital to opening the cooking school – which they call their Hidden Treasure.
Now Salvatore spends Monday through Saturday from 7:30am – 8:00pm working in the gardens with short breaks for lunch in the heat of the day, then still finding time to take care of their farm animials.  It is through his hard work, nurturing, passion, and devotion that their Hidden Treasure produces the most genuine organic vegetables, fruits and herbs, allowing Mamma Agata to create incredible dishes for her family, friends and guests.  Papa Salvatore is the families REAL TREASURE!
Chiara Lima, Mamma Agata's daughter, also lives in Ravello on the Amalfi Coast, where she teaches classes along with her mother, sharing her experiences with others.
Chiara is married to Gennaro who is the Sommelier of the family – with whom they share two lovely children – Mario and Paola.
Upon discovering Mamma Agata's cooking school I browsed their website and found they've published a beautiful cookbook that I'm thrilled to say I use in my kitchen to create luscious masterpieces, while reading their wonderful family stories at bedtime.  I feel like I know each member of their family, yet I've never met them.
I have communicated with Chiara numerous times and look forward to the day I finally meet her.  She is so warm and kind I feel like I've known her forever.  Everyone should be like Chiara!
Besides their cooking school and beautiful cookbook they also make their own olive oil, and pasta, among other items in their shop. I planning to make their Farmer's Spaghetti next, then drizzling the Extra-Virgin Olive Oil over the top – a dish I'm certain my family will adore.
With so many incredible Italian family recipes in this book, I'm finding myself like Julie Powell (Julie & Julia) following each and every recipe, page by page.  Recipes like Eggplant Parmesan with homemade tomato sauce, eggplant rolls (I love eggplant), stuffed zucchini flowers, Gnocchi – various versions,
numerous pasta dishes each one more tempting than the last, risotto, pork, veal, Mamma's famous Lemon Chicken, mouth watering meatballs in tomato sauce, vegetable dishes, her famous Lemon Cake and so much more.
Plus, their special Limoncello that I'm going to share with you today.
Even more, are the beautiful photos on every page, with stories to go with them.  I have to say, each time I see the photos of Chiara and Gennaro's children displayed throughout the pages of this book, I smile.  They are positively beautiful and look so sweet.
I can't say enough about Mamma Agata "Simple and Genuine" cookbook.  I love every page, photo and story that is shared.  It's truely a book to cherish!
I'm excited to tell you that Chiara was kind enough to let me offer one as a GIVEAWAY today!
However, if you don't win, you can always purchase a signed copy of Mamma Agata "Simple and Genuine" directly from Mamma Agata in Ravello, Italy.  Plus, if you'd like to see Chiara and Gennaro cooking, you can view their videos here.
Here's what you need to do to enter the GIVEAWAY:    Plus read more for the Limoncello recipe!

"Like" Mamma Agata on Facebook
Tell me what your favorite Italian dish is – (MANDATORY)
By commenting each time that you did one of the above, it will increase your chances of winning.
The winner will be selected at
Random
on Sunday, September 16th.  Be sure to leave a link to your email address so I can reach you, in the event you are the winner.
I won't keep you in suspense any longer.
I decided to share Mamma Agata's recipe for Limoncello today, since the holidays are just a little more than 3 months away.  I love gifting homemade treats for the holidays, they mean so much more than store bought.  Plus, it's an affordable way to give to so many, and with great results.  I know you'll love this for yourself and to share.
Homemade Limoncello
You will need a large glass jar
Ingredients:
zest of 6 or 7 large organic lemons
1 litre or quart of pure grain alcohol or vodka
5 cups (1250 ml) water
3 cups (700 gr) sugar










Instructions:
Peel the zest from the lemons with a vegetable peeler and place them into a large glass jar.
Try to avoid the bitter white pith of the lemon skin, under the yellow zest.
Add the alcohol to the jar with the lemon zest.
Cover the glass jar with plastic wrap and store it in a cool place for 7 days.
On the sixth day: 
Boil the water and add the sugar to the boiling water (creating simple syrup).
Stir the sugar until it is fully dissolved in the water. 
Set the sugar syrup aside to let it cool over night.
On the seventh day: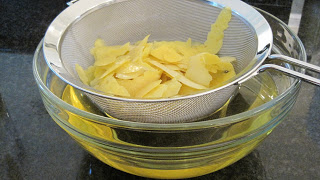 Strain the lemons peels from the alcohol and discard the peels.
Pour the sugar syrup into the glass jar with the alcohol and stir well.
Serve chilled, from the refrigerator or freezer.

NOTE: This Limoncello will keep for one to two years. Store the Limoncello in bottles with a cap or cork in your bar or cellar. When you want to drink it, chill the Limoncello in the refrigerator or freezer before serving. 

ENJOY FOR YOURSELF OR TO GIVE AS A GIFT!
Congratulations!  The winner of the giveaway is:
 Savoring Time in the Kitchen.  
The winner was selected at Random and although it  shows 41 comments I posted 3 replies so there were actually only 38 comments.
Thank you for all your comments.  Mamma Agata's book "Simple and Genuine" is a beautiful book that I recommend to purchase for yourself or a gift.
Happy Cooking!