Bacon Jam, Oh Yea!
Bacon Jam! You heard that right. It doesn't get much better than this if you're a carnivore.
I don't eat meat that often but when I do this treat is my jam! Slather it on top of burgers, or on sandwiches like leftover Thanksgiving turkey. You can put it on top of crackers with cheese, or why not on an English muffin topped with an egg and avocado – the possibilities are endless. What would you put it on?
I prefer making my Bacon Jam best with regular bacon rather than smoked bacon. However, if you're a fan of smoked bacon then use that. I have tried it both ways and my preference is to use bacon that has not been smoked. The flavor is fresh and clean tasting, in my opinion.
Tip: You definitely want to be sure to turn the fan on when sautéing the onions. This insures the smell doesn't run through your home. Nothing is worse than having your entire house smell like onions, including your clothes. Trust me – from experience!
I decided to create this recipe after dining at Annie Gunn's restaurant in St Louis. A quaint bar and grill with an incredible gourmet grocery store attached to it.
The Smokehouse Market has been a favorite of my families for years. Hands down they have some of the best meats in town or anywhere else for that matter. Plus their prepared foods are to die for.
During the holiday season I will often purchase their smoked turkeys to gift to others. I especially love their smoked turkey because it's not a strong smokey flavor but in my opinion, just right!
Besides meats, they have a huge selection of gourmet foods, fresh baked pies and dips that are sinful!
Anyway, a few weeks ago I met a friend at Annie Gunn's for lunch and decided to try their burger with bacon jam. First of all the burger which they also carry at The Smokehouse Market, is a combination of beef tenderloin, brisket, and rib eye or strip. After the burger is grilled it's topped with their homemade Pecan Wood Smoked Bacon Jam. It's amazing!
My recipe for Bacon Jam doesn't taste exactly like Annie Gunn's, but it's still pretty darn good! I'll keep tweaking my version until it comes close to theirs, and when it does I will repost it. In the meantime, I am confident you'll enjoy my version of Bacon Jam.
There are tons of copycat recipes for bacon jam online. Wikipedia shares some famous restaurants that serve and sell their bacon jam in jars.
I made this recipe and then pureed it in the KitchenAid K400 blender that was so kindly gifted to me from @Yummly
The KitchenAid K400 worked like a charm. I love the large bowl and tight sealed lid. Plus it fits nicely under my cabinets.
If you're looking to purchase a holiday gift for the food lover in your family be sure to check out the KitchenAid K400.
If you're a fan of bacon I highly suggest you try this Bacon Jam, you won't be disappointed!
Bacon Jam
Bacon Jam is like a culinary explosion in your mouth.  It's mouthwatering, sweet and savory - try some, today!
Ingredients:
1

lb. thick cut bacon, cut into 1/2-inch slices

2

 extra large sweet onions, quartered and thickly sliced

1/2 cup

brown sugar

1/3 cup

espresso or coffee (I used about 1/2 tsp. espresso powder in 1/3 cup hot water)
6 Tbsp. pure maple syrup

1 tablespoon

 balsamic vinegar
Directions:
Cut the bacon into half-inch slices and add them to a stock pot.  Cook over medium-high heat for about 10 minutes, stirring frequently until bacon is cooked but still chewy not crispy.
Using a slotted spoon remove bacon from pan and set aside on a plate lined with paper towels to absorb extra fat. Pour out all but 1 tablespoon of bacon drippings and reserve for another use.
Add onions to pot and cook for about 8-10 minutes. Reduce heat to low. Add sugar, coffee, and maple syrup, , and stir. Continue to cook until the onions have caramelized, about 20 minutes. Add the reserved bacon. Continue to cook, stirring about every five minutes, until the onions are thick and jam-like, about 30 minutes.
Remove from heat and stir in the balsamic. Taste for seasoning and salt if necessary.
Allow to cool slightly then add to blender to puree slightly removing large chunks.
Use immediately or store in mason jars and refrigerate for up to a week. Bring back to room temperature before serving or warm slightly and stir to blend in the bacon fat.
Enjoy!
Note: Bacon Jam makes a great holiday gift.  After cooking place in mason jars with a ribbon and label describing what it is.
Hungry for more? Savor these!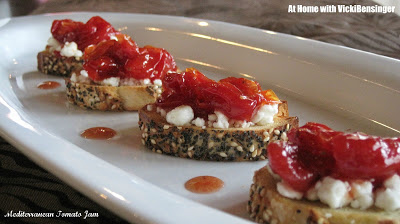 Tomato Jam, Pesto, and Ricotta Jar