Mediterranean Tomato Jam!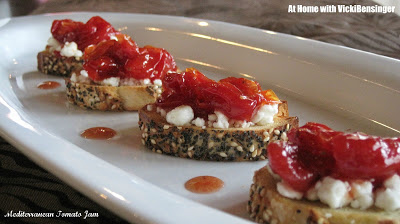 If you've ever been to the Mediterranean you know that the tomatoes there are like nothing you've ever tasted in the U.S.  Though I don't have those tomatoes to cook with I can still create dishes that are luscious, and dream I'm sitting by the turquoise sea while eating them.
This recipe was created for the 5 Star Makeover, hosted by Natasha of 5 Star Foodie and Lazaro of Lazaro Cooks.  This month's recipe request is a light Mediterranean Greek Meze or appetizer.
My first thought was to make baked olives, a wonderful dish that those who love olives would adore.  However, vacationing here in the mountains I was unable to find any that looked worthy of using, so instead I created a Tomato Jam that makes a delightfully light, refreshing savory Mediterranean appetizer.
Quick to prepare, serve warm, at room temperature or chilled.  Serve on homemade crostini with goat cheese then topped with the Tomato Jam.  Be creative if you like and add some prosciutto and figs or melon, then topped with the jam.  Let your palate be your guide.This delightful meze will be gone before you know it, so you might want to make a double batch to have for yourself, once your guests have gone home.  It's so heavenly you'll want to eat it off a spoon.
Don't take my word for it, try making some for yourself and see!

Mediterranean Tomato Jam!
Ingredients:
2 (10 oz.) containers of baby tomatoes
1/2 cup brown sugar
3/4 cup fine sugar
1/2 cup water
pinch of sea salt
1/4 teaspoon fresh ground pepper
zest of 1 lemon
Directions:
Combine all ingredients except the lemon zest in a stainless steel (non-reactive) saucepan.  Cook over low heat to create a simmer for 30 minutes, stirring occasionally - the tomatoes will begin to pop.
Turn heat to high reducing until mixture becomes thick - stirring constantly, about 10 minutes.  Remove from heat.
Stir in lemon zest and set aside to cool completely.
Store in a covered container in the refrigerator for approximately 2 weeks.  It won't last that long!
Enjoy!!!
To make Crostini:
1 Baguette bread sliced in bread slices
Directions:
On a foil lined cookie sheet lay sliced baguette rounds on tray and drizzle with extra-virgin olive oil.  Sprinkle with sea or kosher salt.
Bake in 400F degree oven for approximately 10-15 minutes or until edges start to brown and bread gets crispy.
Serve with tomato jam and goat cheese.
Note:  If desired, you can add the goat cheese to the crostini after they've crisped up, to melt.  Then remove and add tomato jam.  Or after removing crostini from oven, add goat cheese and tomato jam.