Pure & Fresh Watermelon Raspberry Lemonade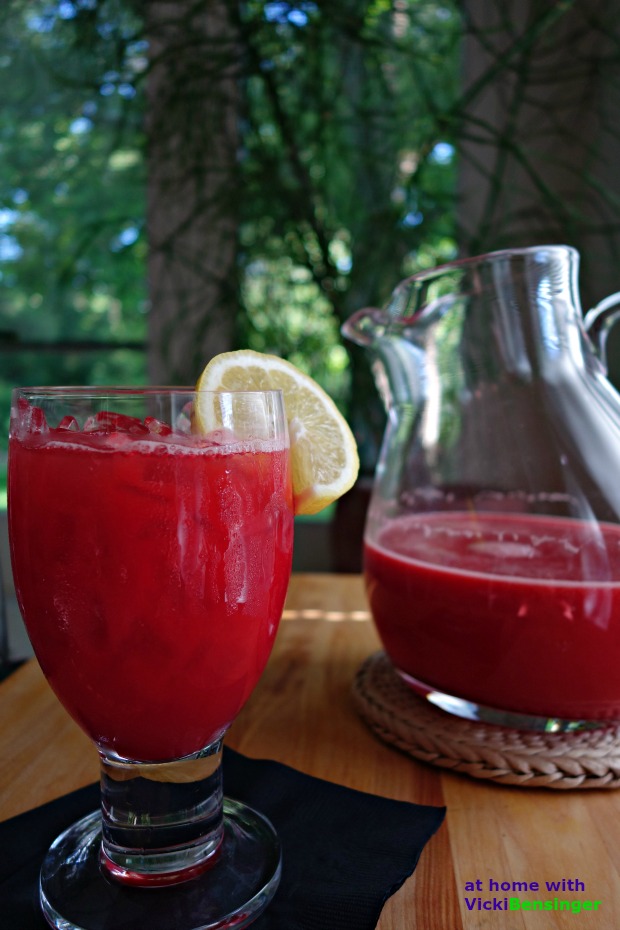 What could be simpler and more refreshing than an iced cold lemonade on a scorching hot & humid day? How about a Watermelon Raspberry Lemonade?
Last week when I prepared my Mahi Mahi Tacos and Cantaloupe Coconut Lime Sorbet I paired it with this Watermelon Raspberry Lemonade – talk about a healthy meal full of nutrition and flavor!
This recipe is so easy and because the Watermelon is naturally sweet, there's no need to add any additional sweetener – that is of course unless you feel the need to.
*If you feel you need to make this sweeter I'd suggest warming up some water and adding natural honey or Agave and waiting for it to dissolve. Similar to making a simple syrup with sugar and water only healthier. If using Agave, use less since it's quite sweet. Once the sweetener has dissolved in the water, add it to the lemonade. I'd opt for keeping this pure & fresh.
Be sure to chill in the refrigerator for optimal flavor and satisfaction!
Pure & Fresh Watermelon Raspberry Lemonade
A refreshing twist on lemonade!
Ingredients:
1 small seedless watermelon, cubed
1 cup fresh or frozen raspberries
1 cup freshly squeezed lemon juice (6- 8 lemons)
1 cup coconut water or plain water
A pinch of sea salt
Crushed ice for serving or freeze cubed watermelon ahead and use in place of crushed ice
Garnish: Slices of watermelon, raspberries or lemon wedges (optional)
Directions:
In a blender, food processor,  or stick blender, purée watermelon, raspberries and lemon juice until smooth.
Strain through a fine mesh strainer for an ultra- smooth consistency and place in a pitcher. Add coconut water (or plain water if using) stir to combine.  *If needs to be sweeter see notes above.
Refrigerate for at least 2 hours to chill.
Serve: Pour over ice in glasses. For an adult beverage, add flavored or plain vodka, or sparkling water for a bit of effervescence.
Garnish: Add slices of watermelon, raspberries or lemon wedges, if desired.
Enjoy!!!
Notes: For a fun treat, place in popsicle containers - freeze and serve.
Hungry for More? Savor These: