Mini Cheesecakes with Raspberry Coulis
I apologize for missing a post last week especially in lieu of Valentine's Day.  I actually had 3 posts I wanted to share but had a very busy week and was unable to post them.
I hope you all had a fantastic Valentine's Day shared with those that mean the most to you, I know I did.
This is a recipe I prepared for the occasion that if you're a fan of cheesecake I think you'll enjoy.  Of course, these can be made anytime of the year and is perfect for entertaining as well.
The raspberry coulis is bright red,  perfect for Valentine's Day.  The same method can be used for other berries as well.  Once prepared and chilled I placed the coulis into a squeeze bottle so I could control the design I wanted.
As for the graham cracker crust, I've also used gluten free graham crackers

that I've purchased at Whole Foods, making the entire dessert gluten free.
Follow the recipe below exactly, for a perfect cheesecake – from room temperature ingredients to the order in which the ingredients are blended.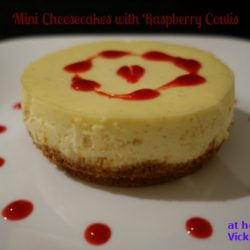 Mini Cheesecakes with Raspberry Coulis
Ingredients:
Cheesecake
3 (8 ounce) packages cream cheese, room temperature
3 eggs, room temperature
½ cup heavy whipping cream
¾ cup granulated sugar
½ teaspoon vanilla or 1 vanilla bean, split and seeded
1 package Graham Crackers, gluten free if needed
3 Tbsp. butter
1 teaspoon cinnamon
Raspberry Coulis
1-1/2 c. raspberries
1/2 c. superfine sugar
1 vanilla bean
Directions:
Cheesecake: In food processor blend crackers to a fine crumb.  Toss graham cracker crumbs with cinnamon then add melted butter (use more if needed) combining mixture.
Spray 4 (4-inch) springform pans with non-stick spray.  Line bottoms with parchment rounds, spray parchment.
Add approximately ¼ cup of graham cracker mixture to bottoms of each springform pan and bake at 350F degrees for 5 minutes.
Using a mixer in this order – cream the cheese, then add sugar and blend until smooth.  Add eggs – one at a time, vanilla, and then whipping cream.
Wrap heavy duty foil around each springform pan tightly, leaving top exposed.
Divide cream cheese mixture among pans about 2/3 full, placing pans in a larger pan filled with a cold water bath, 1/2 way up the sides of the pans.
Bake at 350F degrees for approximately 20-25 minutes.  Center will still be a bit jiggly.  Turn oven off DO NOT OPEN DOOR and leave in for another 10 minutes.
Remove pans from oven, unwrapping foil around pans, and bring to room temperature.  Then refrigerate until fully chilled 4 hours or overnight.
Unmold, remove parchment, place on plate, and serve plain or with Raspberry Sauce.
Raspberry Coulis: Put the raspberries and sugar in a saucepan. Place pan over medium to high heat and bring to a boil.
Cut vanilla bean in half lengthwise.
When the raspberries have released some liquid, add vanilla bean.
While cooking, stir and mash berries, until quantity is reduced by about 1/3. Strain the raspberries through a strainer, pushing on the pulp.
Set aside to cool until ready to serve.  Can be placed in refrigerator, covered.