Chocolate Brickle Sensations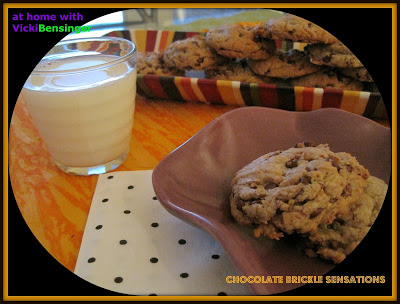 Do you have those go to recipes that you know will ALWAYS please everyone?  I have quite a few up my sleeve, but I love these little cookies for their toffee crunch and chocolaty goodness.  Plus you literally toss all the ingredients together and portion them out.  How simple is that?
When company is coming unexpectedly, or I'm looking for just one more sweet treat that I know will be a hit, I pull out my recipe for Chocolate Brickle Sensations.
I'd love to claim this recipe as mine, but some 20 years ago I saw it in our local paper – a recipe sent in by a Pat Bollwerk.  I tore it out of the paper and have had it filed ever since, creating this recipe over and over again.
If you're having company this weekend, asked to bring a dish to someone's home, or even an extra nosh for Mother's Day next weekend, I suggest making these.  With four dozen cookies from one recipe, these are guaranteed to disappear in one day!  Really!!!  For this recipe read more………

Chocolate Brickle Sensations
Ingredients:
1 cup (2 sticks) butter, melted
3/4 cup packed brown sugar
3/4 cup granulated sugar
2 eggs
1 teaspoon pure vanilla
1 (4-serving-size) package instant French vanilla pudding mix
1 teaspoon baking soda
1 teaspoon baking powder
2 1/2 cups unbleached all-purpose flour
1 (12-ounce) package mini chocolate chips
10-ounce package brickle (English toffee) bits
Directions:
Preheat oven to 350F degrees.  Line cookie sheets with parchment paper.
In a large bowl, combine all ingredients together.  Stir by hand until well mixed.
Using a small cookie scoop or teaspoon, drop cookie dough onto parchment lined cookie sheets.
Bake 8 to 10 minutes, or until browned.
If you make these, I'd be curious to know how long they lasted.  GUARANTEED A WINNER!
ENJOY!!!