Valentine Bark!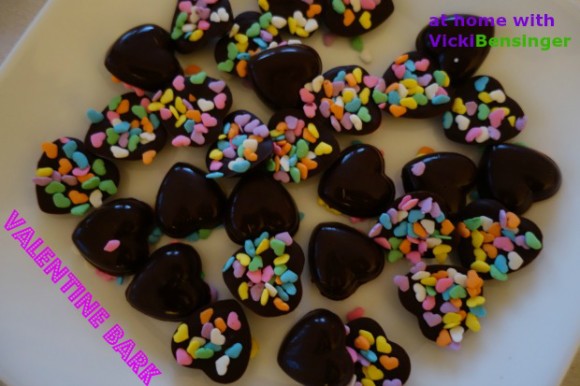 Looking for a Valentine treat you can literally put together in 10 minutes?  Look no further! 
This Valentine Bark is so easy – with just 10 minutes to prep, plus 30 minutes resting time in the refrigerator.  What could be easier than that?
I used some mini heart-shaped molds, but honestly you could spread the chocolate out onto a sheet pan and drizzle with heart-shaped sprinkles. This is a fun holiday project the whole family can create and enjoy! So what are you waiting for?
Here's my recipe, feel free to doctor it up any way you choose……………..
Valentine Bark
Ingredients:
1 (10 oz.) package chocolate chips (dark, semi-sweet, white, etc.)
2 oz. heart-shaped sprinkles
piping bag or zip lock bag with tip cut off
Directions:
Melt chips in a heat proof bowl at 30 second intervals, stirring in between each time until completely melted.
Pour into piping bag and snip off a small end at the tip.
Squeeze melted chocolate into each heart-shaped mold.
Drizzle heart-shaped sprinkles over each heart.
Place molds in the refrigerator for 30 minutes.
Remove from refrigerator and turn over onto a plate or mat to release chocolate hearts.
Set out to serve or place in decorative bags or box to give as a gift.
Enjoy!
Notes:
Be sure to clean molds before using.
Make sure that no water is left on the molds or the chocolate won't solidify properly.