Tomato Asparagus Salad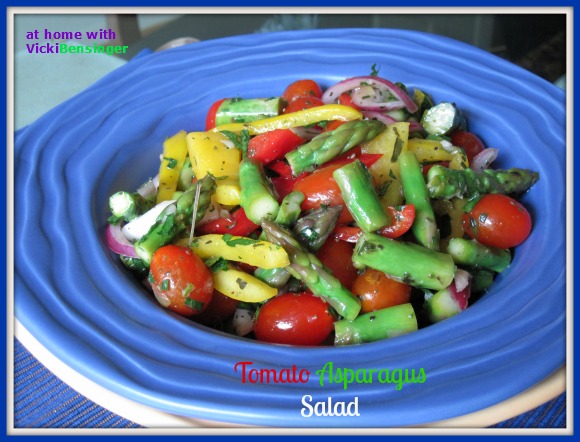 Sometimes all I crave is a big bowl of veggies, which was the case the other evening.  After rummaging around to see what I had on hand, I found asparagus, tomatoes, yellow peppers and onions – those sounded healthy and fresh. With some simple preparations, I cut my vegetables and tossed with a light basil vinaigrette.  Leftovers, can be used to  make a hearty frittata the next day!
Check out this easy recipe.  It's perfect for the upcoming 4th of July holiday.  Make a huge bowl for all to indulge.  Whether inside or out, this salad can withstand the heat.  I think you'll enjoy it. 
Tomato Asparagus Salad
Ingredients:
Vegetables:
1 (10 oz. package) grape tomatoes
1 bunch asparagus, *blanched, cut into 1-inch pieces
1 yellow pepper, julienne sliced
1/2 red onion, thinly sliced
8 basil leaves, minced
Basil Vinaigrette:
1/2 cup Basil Olive Oil
1/4 cup Red Wine Vinegar
1 heaping teaspoon Dijon Mustard
1 teaspoon honey (if desired)
salt & pepper to taste
Directions:
*Blanch Asparagus: Place a kettle of water on the stove to boil. Cut dried, hard ends off asparagus bottoms, then rinse clean.   In a glass baking dish line asparagus in a single or thin layer.  Once water boils, pour over spears allowing them sit for 3-5 minutes. Test one spear after a couple minutes - they should be crisp, yet tender, with a good snap when broken in half, but not raw.  When crisp perfect, remove from water and cut into 1-inch pieces.
Salad: Combine prepared vegetables in a large bowl.
Vinaigrette: Whisk ingredients together, add desired amount, and toss with mixed vegetables.
Sprinkle with minced basil, and toss again.  Add salt and pepper to taste, if desired.
Note:  Use whatever vegetables you have on had or complement  each other.  Add crumbled cheese, or vinaigrette of your choice.  The above ingredients are perfect for an outdoor picnic.  If recreating for your outdoor event, be sure to use ingredients that can withstand the heat.
Enjoy!!!