Seaweed, Ginger & Carrot Salad
Seaweed Spaghetti sounded rather intriguing to me. I love sushi and felt like this could be a fun take on it. I discovered this recipe on the Ottelenghi website – a favorite chef, their restaurants, and their numerous cookbooks. Here's what I quickly discovered……………
Upon opening the bag of the Sea-Spaghetti Seaweed it was as though instant nausea set in. The smell of the seaweed exhumed of fish. Don't get me wrong I love fish, in fact I adore it, but this smell was awful!
The directions called for rinsing the Sea-Spaghetti in cold water then soaking it in a bowl of cold water for 30 minutes. I figured that would probably remove the odor. Unfortunately it did not!
I wanted to keep positive. Just because I couldn't stand the smell didn't mean it would taste bad. The photo on the Ottelenghi website was gorgeous, enough to have me order the Sea-Spaghetti online to test this recipe.
After following the instructions and boiling the seaweed for 2 minutes along with julienne'd ginger, then adding julienne of carrots, I was sure the odor would be removed.  No it was not!!!
Next it called for adding in the rice wine, sugar and salt, ingredients used when making sushi rice.  This made sense and of course it would help to remove the unpleasant scent.  It did not.  I had already julienne'd the cucumber and once the seaweed spaghetti had cooled I went ahead and added those in.  I gave it a quick toss, then sprinkled with avocado oil, and sesame seeds.  Gave it another quick toss and tasted it.
WOW!  To my surprise, not really, it still did not please my palate at all!  With that I decided I didn't want to waste a good mango by adding it to the dish or the other ingredients.  I just couldn't stomach it.
Most things I make I actually love, and for the most part I'm pretty good about looking at a recipe and being able to decipher if it's going to taste great or not.  This time I was way off base.
If you're a fan of the smell of crustaceans and molluscs then you might like the Sea-Spaghetti Seaweed.  I however did not.
On a positive not though the nutritional content for this is so high.  It claims on the package: A superfood containing magnesium which contributes to a healthy energy-yielding metabolism as part of a varied and balanced lifestyle.
Nutritional Information:
typical values ……….%RI………….per 100g
Energy kj………………………………………747
Energy kcal…………………………………..178
Fat………………………………………………..2.7
of which saturates………………………….0.7
Carbs…………………………………………..28.5
of which sugars…………………………….<0.5
Fibre (g)………………………………………30.5
Protein (g)…………………………………..10.0
Salt (g)……………………………………….. 9.1
Vitamin C (mg)………82.5%…………….66
Calcium (mg)…………87.5%……………700
Magnesium (mg)……424%……………1590
Iodine (ug)………………………………..14600
RI = Reference intake
The packaging also states that if you're allergic to Iodine it's recommended to seek medical advice before consuming.
I truly thought this would be a breakthrough recipe for me and one I could share in my culinary classes. Unfortunately if I can barely stomach the odor I certainly can't share it in a class.
That said, if you'd like to give it a try, go for it.  Just be warned the stench of the Sea-Spaghetti Seaweed is quite strong.  In fact, the odor is still lingering in my home.
In the event you'd like to give this a shot the recipe is below and the company that makes the Sea-Spaghetti Seaweed, Atlantic Kitchen also offers some recipes on their site. Since I did purchase 2 packages I will attempt to use this once more, just in case I got a smelly batch!
Ingredients:
40g ginger, peeled and julienned
3 carrots, peeled and julienned
80ml rice-wine vinegar
1 tbsp caster sugar
1 whole cucumber, peeled, deseeded and julienned
1 large mango, peeled and julienned
70g peanuts, toasted and salted
2 tbsp sesame seeds, toasted
2 tsp lime juice
1 tbsp groundnut oil
20g coriander leaves, chopped
20g mint leaves, shredded
Salt
Directions:
Rinse the sea spaghetti in cold water, strain, cover generously with cold water and set aside for 30 minutes.
Bring a large pot of water to a boil. Drain the sea spaghetti and place it in the boiling water with the ginger. Boil for two minutes, add the carrots, boil for two minutes more, then drain and pat dry. Transfer the blanched veg to a large bowl and, while still hot, add the vinegar, sugar and a teaspoon and a quarter of salt. Mix and set aside to cool.
Once cool, stir in the remaining ingredients and serve.
For the time being I think I'll stick to spaghetti dishes I'm familiar with.  If you'd like to check those out, here are a few!
Tri-Squash Zoodles with Fresh Tomato Sauce & Chicken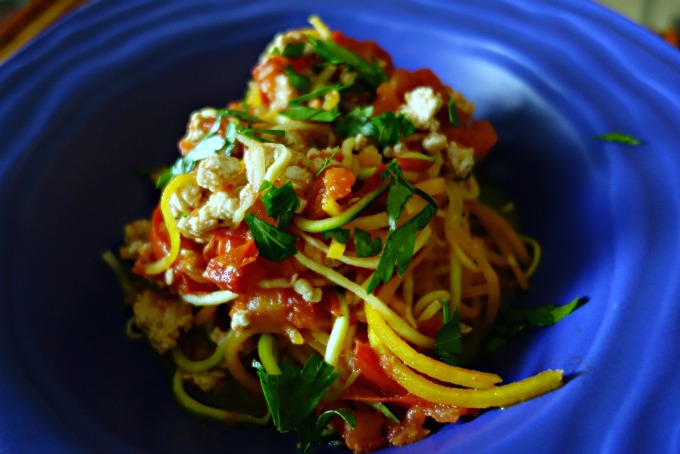 No-Noodle Butternut Squash Lasagna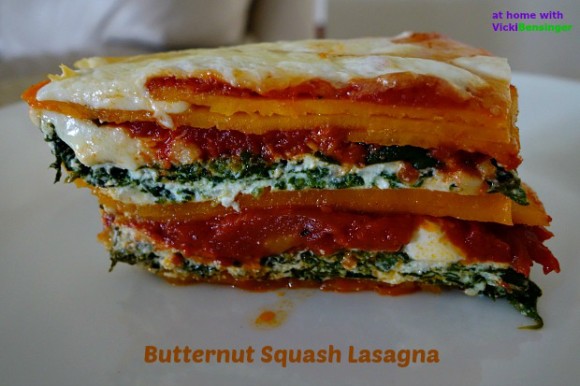 Salmon Stir-Fry with Zucchini Pasta