Pumpkin Muffins with Candied Pepitas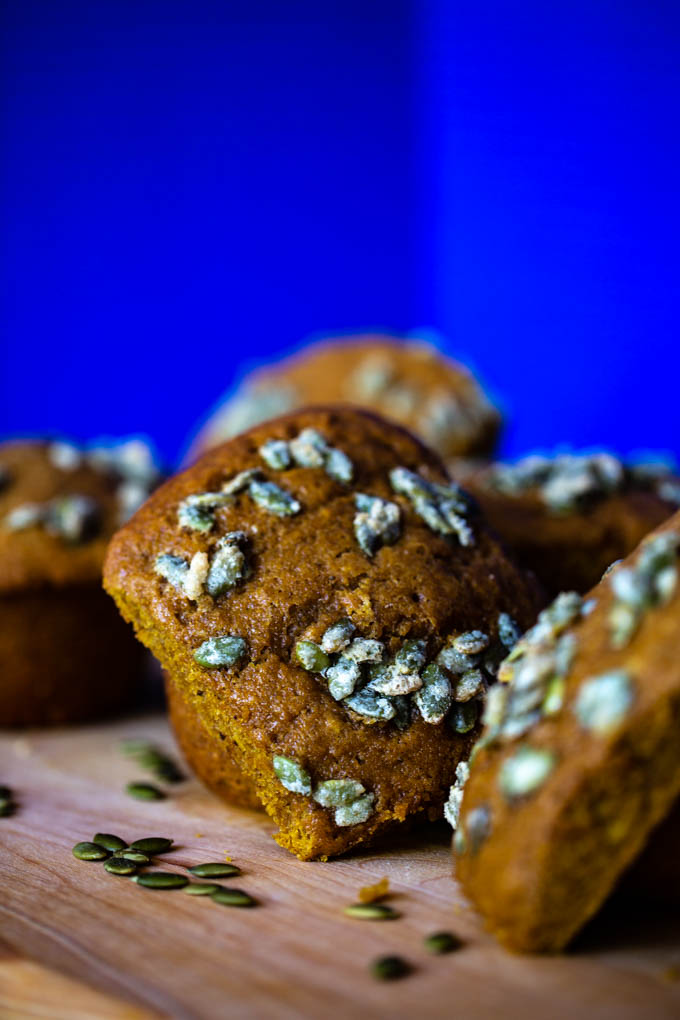 Growing up I loved muffins, donuts, cakes, cupcakes, and candy. Yet, as an adult I seem to avoid the cake treats and typically go for a chocolate fix at least once a day, unfortunately.  However, I was totally in a Fall mood of flavors, and spotted this recipe from a cookbook that has been on my shelves a while – Pumpkin Muffins with Candied Pepitas. 
There was no photo with this recipe, but I had all the ingredients on hand and it sounded perfect!
Since the weather was cool, the leaves were changing, and the house felt cozy & quiet, I felt like baking. So I made these soft, tender, and fluffy muffins, that were oozing with the flavors of Autumn.  OMG, you're going to love this recipe!
I kid you not, these truly are sensational! The muffins aren't too sweet, but have a mellow sort of sweetness to them.  You can taste the flavors of Fall with the hint of cloves that oozes through each bite, and the essence of molasses that permeates throughout.
These are worth every bite, but if calorie is a concern, then ration yourself slices like I did.  Rationing merely allows you more time to savor each and every nibble, and spread out the joy of flavors that much longer.
A shout out to Joanne Chang of Flour Bakery + Cafe in Boston for this spectacular recipe.  The recipe Pumpkin Muffins with Candied Pepitas can be found in her cookbook flour.
I think you'll agree with me and find yourself making these Pumpkin Muffins with Candied Pepitas time and time again.
Pumpkin Muffins with Candied Pepitas
These Pumpkin Muffins with Candied Pepitas are such a heavenly treat you'll find yourself baking up batches weekly!
Ingredients:
Candied Pepitas
3/4 cup (170 grams) pepitas (pumpkin seeds)
1 egg white
1/4 cup (50 grams) sugar
Pumpkin Muffins
3/4 cup (1 1/2 sticks/170 grams) unsalted butter
2 cups (400 grams) granulated sugar
3 tablespoons unsulfured light or dark molasses
4 eggs
3/4 cup (180 grams) fresh orange juice (about 3 oranges)
1 can (16 ounces/454 grams) pumpkin puree
3 cups (420 grams) unbleached all-purpose flour
2 teaspoons baking powder
1/2 teaspoon baking soda
1 teaspoon kosher salt
1 teaspoon ground cinnamon
1/2 teaspoon ground cloves
Directions:
To make the candied pepitas. Line a small tray with parchment paper. In a small bowl, stir together the pepitas, egg white, and sugar to make a loose slurry. Pour the seed mixture onto the prepared tray and leave out, uncovered, to dry overnight. The next day, using your fingers, break apart the pepitas into separate pieces. (The pepitas can be prepared up to 1 week in advance and stored in an airtight container at room temperature.)
Position a rack in the center of the oven, and heat the oven to 350 degrees F. Butter a standard 12-cup muffin tin or 6-cup Jumbo muffin tin, coat with nonstick cooking spray, or line with paper liners.
Using a stand mixer fitted with the paddle attachment (or a hand-held mixer), cream together the butter, sugar, and molasses on medium speed for 2 to 3 minutes, or until the mixture is light and fluffy. Stop the mixer and scrape down the sides and bottom of the bowl with a rubber spatula.
 On low speed, add the eggs one at a time, beating well after each addition to combine the eggs and butter-sugar mixture thoroughly. Scrape the bottom and sides of the bowl once more. On low speed, add the orange juice and pumpkin and beat until combined. The mixture will look somewhat curdled. Don't worry. It will all come together once you mix in the flour.
In a large bowl, stir together the flour, baking powder, baking soda, salt, cinnamon, and cloves until well mixed. Dump the egg mixture into the dry ingredients and fold carefully just until the dry and wet ingredients are well combined. (The batter can be made up to 2 days ahead and stored in an airtight container in the refrigerator.)
Spoon the batter into the prepared muffin cups, dividing it evenly and filling them to the rim (almost overflowing). Sprinkle the tops evenly with the candied pepitas.
Bake for 35 to 45 minutes, or until the muffins are golden brown on top and spring back when pressed in the middle with a fingertip. Let cool in the pan on a wire rack for 20 minutes, then remove the muffins from the pan.
Recipe Tips: The muffins taste best on the day they are baked, but they can be stored in an airtight container at room temperature for up to 3 days. If you keep them for longer than 1 day, refresh them in a 300-degree-F oven for 4 to 5 minutes. Or, you can freeze them, wrapped tightly in plastic wrap, for up to 1 week; reheat, directly from the freezer, in a 300-degree-F oven for 8 to 10 minutes.
Note: Adding the candied pepitas (pumpkin seeds) is a great addition to these muffins.  I don't think they look so pretty on top but are so tasty you won't want to miss this part.  I placed them as described on top of the batter in each muffin tin.  However when they start to spread and rise the pepitas move.  Not sure if they need to be added midway or not, except then you risk losing oven heat, and time. Also be sure to leave the pepita mixture out overnight NOT in a cool oven.  They need to crust up and placing them in the oven won't allow that, I tried!
Enjoy!!!
Hungry for more? Savor these!
Applewood Smoked Bacon & Cotswold Scones
Pumpkin Spiced Candied Almonds
Tools used to in this recipe:
KitchenAid Artisan Stand Mixer
Cuisipro Stainless Steel Measuring Cups & Spoons
Wilton 6 Cup Jumbo Muffins Pan