Orgasmic – BBQ Chicken Dip!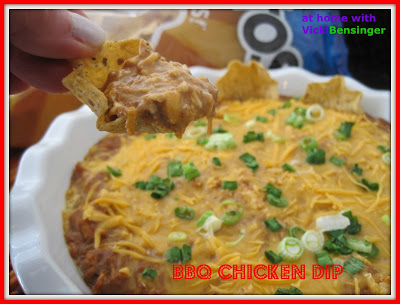 Do you have guests coming over in a few hours to watch the Super Bowl and need more grub?  Here's a totally orgasmic hot dip that will have your guests running their own touchdowns.
All you need to do is run to the store and grab a few items.  Whip them up together and you've got this amazing dip!  I literally cannot stop eating it nor could the rest of my crew.  It obviously won't last until game time.
I did opt to try and make it low-cal.  Why, I honestly don't know!  Although even using Fage 0% Greek Yogurt, Light Ranch Dressing and Cream cheese it's still incredible.  I even used the Fat Free Shredded Cheddar because that's what my family insists on all the time.  I DO NOT recommend using that.  Go for at least the 2% if not full fat.  I mean let's face it – with all the other junk you'll be eating today, just enjoy yourself and watch your intake tomorrow.
Orgasmic BBQ Chicken Dip
Ingredients:
2 cups shredded Rotisserie chicken
1 (8 oz.) package cream cheese, softened
3/4 cup BBQ Sauce (I used Original KC Masterpiece)
1/4 cup Ranch Dressing
1/4 cup sour cream (I used Fage 0% Greek Yogurt)
1 1/2 cups shredded cheddar cheese
1 green onion, sliced
Directions:
Preheat oven to 350F degrees
Combine all ingredients except 1/2 cup cheddar and onion in a bowl.
Sprinkle remaining cheese and sliced green onions on top.
Bake 25-30 minutes.
Serve with your favorite chips or however you prefer.  Honestly, I could put this on a bun and eat it as a sandwich - it's that good!
I hope your favorite team wins the game today!
Enjoy!!!