Orange and Pomegranate Salad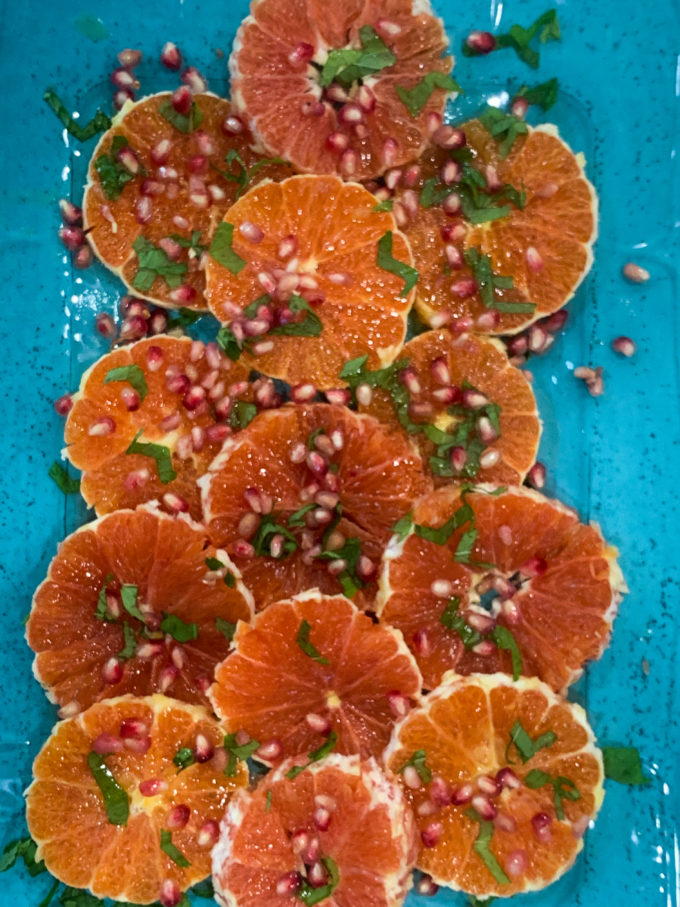 Oftentimes we feel that in order for a dish to taste amazing it has to be complicated. This is totally false, and certainly not the case with this tasty Orange and Pomegranate Salad.
Serve this any time of day, and throughout the year.
The Orange and Pomegranate Salad takes on Mediterranean Flavors using warming spices of cinnamon and sweet paprika. With a pinch of sea salt the flavor of the citrus, mint and pomegranate pop, without being too overpowering.
You might be thinking this combination sounds awful, but trust me, it's the perfect marriage! Then top with thin slivers of red onion and a fresh and clean honey lime vinaigrette. Notice how everyone that indulges gives this rave reviews.
In this dish I used Cara Cara Oranges. They tend to be more the color of a ruby red grapefruit, with less acidity than your traditional Navel Orange. If you can't find Cara Cara Oranges then use Navel Oranges, they're equally delicious!
Tip:
If you've never removed the seeds from a Pomegranate it's so easy. Simply cut the Pomegranate horizontally across the equator. Then set the cut side down into the palm of your hand. Then with a wooden spoon (in case you miss) wack the top of the cut pomegranate, until all the arils release into your hand. Continue with the other half the same way.
As for the sliced red onions: once sliced, place into a fine mesh sieve, and run under cold water for a few minutes. Alternatively: place sliced onions in an ice bath for 5 minutes. This method removes the strong taste of the onion, mellowing it out, and making it more enjoyable to eat raw.
Remember when slicing ribbons of mint, basil or any other leafy herb to stack the leaves. Roll into a cigar-like shape, together. Slice horizontally across the cigar-like shape, creating thin ribbons for garnish. This method is called Chiffonade.
Serve the Orange and Pomegranate Salad attractively on a platter, or plate individually for each family member or guest.
I hope you enjoy this Orange and Pomegranate Salad with Mediterranean flavors at your next meal. Whether you serve it for breakfast, lunch, dinner, or an afternoon treat, I know you're going to love it!
Don't forget to post your photos of this dish on my Instagram page @vickibensinger if you recreate it, and please feel free to share this post.
Orange and Pomegranate Salad
Sometimes the simplest dishes like this Orange and Pomegranate Salad are the most satisfying and flavorful!
Ingredients:
½ - 1 cup thinly sliced red onions, rinsed
25 fresh mint leaves, sliced chiffonade
6 Navel oranges, peeled, sliced into 1/2" rounds
Pinch sea salt
Pinch sweet paprika
pinch ground cinnamon
Seeds (arils) of 1 pomegranate
Dressing:
1 lime, juice of
1 tbsp. olive oil
1 tbsp. honey
Directions:
Dressing: In a small bowl, mix together the lime juice, olive oil, and honey. Set aside.
Place the sliced onions under cold running water or in a bowl of ice cold water to cut the harshness. Set aside for 5-10 minutes, then remove the onions from the water and dry them completely.
Prepare a serving platter: Sprinkle half the amount of sliced mint leaves on the platter, then arrange the orange slices and onions on top. Sprinkle a pinch of salt, sweet paprika, and cinnamon. Now spread the pomegranate seeds on top.
Drizzle or spoon dressing over the orange pomegranate salad (You can add as little or as much as you want of the dressing.)
Finally top the salad with the remaining fresh mint leaves. Allow flavors to blend for 5 minutes before serving.
Enjoy!!!
Hungry for more? Savor these!