My Favorite Holiday Recipes & Homemade Gifts!
The holidays are upon us. Many of you will still be trying to come up with dishes to serve at your own parties or bring to parties.  Maybe you're looking to create homemade gifts to give, and holiday projects to do with your children while they're off from school.
This week, I'll be posting some of my holiday favorites since I started blogging back in 2009.  I hope  to offer new ideas that will become your holiday favorites for years to come.
If you were not a frequent visitor to At Home with Vicki Bensinger since its inception, you may be viewing these for the first time.    I hope you like what you see.
Today I'm going to share with you…….
My Favorite Gifts from the Kitchen:
Chocolate Raspberry Balsamic Truffles
Cranberry Orange Pistachio Biscotti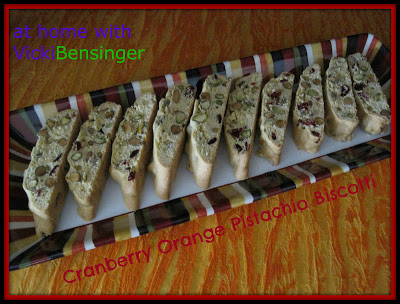 Homemade Platter to Gift with Treats

Each of these recipes can be made and ready in plenty of time for the holidays.  If you have any questions  please feel free to post your comment or email me.  I'm always happy to help.