Monkey Bread Pizza Bites!
Everyone is posting lots of fun and fabulous Halloween treats, but what are you planning to serve that evening before venturing out with your little ghosts and goblins? 
I remember when my kids were younger we'd all go over to the neighbors for dinner before taking our kids out trick-or-treating, in anticipation that a dentist visit would be in the near future.  Everyone would bring a dish for adults and children to quickly snorf down before heading out onto the chilly damp streets covered with leaves.  It always seems to rain on Halloween – does it in your town too?
Now that my kids are grown I don't have the pleasure of watching them go door to door or have our little Potluck gathering.  So instead of sharing a treat, which I'm sure I will before Thursday arrives, I thought I'd share this easy recipe that you can literally whip up just an hour before the guests get served – at home or away.
I saw this idea a couple years ago and thought what a great idea!  It reminded me of my Easy Overnight Caramel Pecan Rolls only with this recipe you make your own dough, which is great – if you have the time!  These remind me of a treat you'd serve when company is coming, oftentimes scrambling to get everything ready before the guests arrive.  So it would make perfect sense to have up our sleeves a quick dish to serve whether for Halloween, the World Series, tailgating, slumber parties or any other casual event you can think of.
Instead of making the dough I decided to use the Rhodes Dinner Rolls.  You know, the ones you find in the freezer section at your grocer?  Just thaw the bag about one hour before preparing and they're so easy to assemble.
Oh and by the way, we weren't having a party last night, but we made quite a dent in these.  I think you'll agree they're pretty darn good.  Fill with your favorite pizza toppings and you'll be a happy camper!
Here's how to make my version of Monkey Bread Pizza Bites:
Monkey Bread Pizza Bites
Ingredients: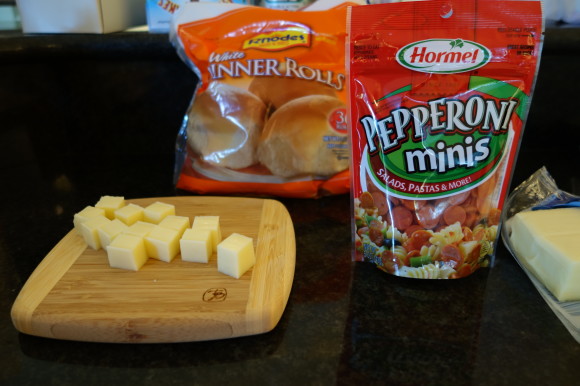 1 (3 pound) package Rhodes Dinner Rolls (my store carried white, next time I'll seek out the wheat rolls)
 large clove garlic, minced
2 tablespoons butter
8 oz. mozzarella cheese block, cubed
1 package mini pepperoni or filling of your choice (bacon, veggies, etc)
2 cups marinara or pizza sauce, warmed (homemade or store bought)
Directions:
1. Melt butter in a skillet, then add minced garlic and briefly heat until foamy.  Turn off heat and set aside.
2. Lightly brush the inside of a bundt pan with garlic butter.
3. Pull out individual rolls from bag, flatten each dough ball and top with 3-4 pepperoni slices and a cube of mozzarella cheese.
4. Wrap the dough around the pepperoni and cheese, seal and place in the bundt pan, seam side down.
5. After the first layer is down brush with more garlic butter, and continue with the next layer, coating the top of that as well, repeating until all the rolls have been filled and placed in the pan.
6. Cover while oven is preheating to 350F degrees.
7. Bake for approximately 20 minutes or until tops are golden brown.
8. Remove from oven and allow to cool 10 minutes before turning out onto a platter.
9. Serve with warmed marinara or pizza sauce (homemade or store bought).
Enjoy!