Homemade Granola
My family loves granola so when we spend time in the mountains of Colorado we like to bring some with us on our hikes.  However, have you ever read the nutritional labels on the packages?   If you've been a follower of At Home with Vicki Bensinger for a while, you'll know that my family is funny about eating foods high in fat and calories, even though I've told them time, and time again. if you take away the fat, other things get added for flavor – sodium is just one of them.  Moderation is key to any diet in my opinion.  After reading the nutritional content on several boxes as well as gourmet markets that make granola daily, I decided to come up with my own low calorie and low fat version. When I first started my blog back in 2009 I posted this recipe but had very few followers back then.  Now 5 years later I decided to post it again especially since I just made a batch.  We love this recipe and I think you will as well. Since some of my family prefers just  raisins in their granola those that want almonds, sunflowers seeds, dried cranberries, dried figs, etc. add their own once the basic recipe is completed.
Granola is perfect with fresh berries and yogurt all placed in a parfait glass as shown above, and served for breakfast , brunch, or a light afternoon snack.
It's perfect when traveling on the road for a healthy treat, or added to your cereal.  Be sure to have extra ingredients on hand to make another batch, since I'm sure your family will gobble it up as quickly as mine.
Here's my recipe…………………..
Homemade Granola
This low fat version of granola will have you coming back for more.
Ingredients:
4 cups old fashioned oats
1/4 cup packed brown sugar
1/4 cup apple juice
1/4 cup honey
1 teaspoon ground cinnamon
1 1/2 teaspoons pure vanilla extract
1 cup raisins (plus other dried fruits and nuts if desired)
Directions:
1. Place oatmeal in a large bowl.
2. In a saucepan, combine brown sugar, apple juice, honey and cinnamon; bring to a boil. Remove from the heat and stir in vanilla.
3. Pour mixture over oats and stir to coat. Spread oat mixture onto a large sheet pan covered with heavy duty foil and place in oven. Bake at 350F degrees for 15 to 20 minutes,          stirring occasionally.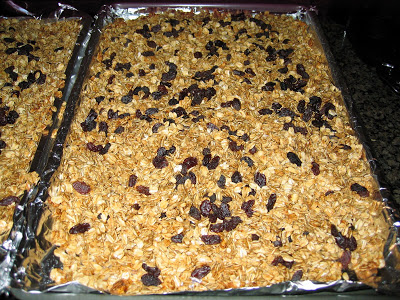 4. Cool completely before adding raisins. Store in an airtight container.
Note: Feel free to add other ingredients: dried cranberries or other dried fruits like blueberries and raspberries, nuts, etc. For added protein almonds or other nuts are perfect especially if taking the granola on hikes.