High Heel Cupcakes!
Every little girl loves to play dress up and wear her mom's high heel shoes. I can remember wearing my mom's, but best of all was my grandmother's high heels, they looked like glass slippers, just like Cinderella's. My sisters and I would debate whose turn it was to wear them. Now decades later we have no clue what happened to those famous glass slippers my grandmother had. That's something we will never forget and always treasure.
My daughter, now 24, used to prance around the house taking turns wearing all my high heels – she was much prettier than I was in them, and still is. We wear the same size shoe now, and while she sometimes will borrow a pair of mine, I find I'm more inclined to borrow hers.
The other day we were sitting in the kitchen together laughing and going through old photos when we came across these.
She had high heels on (which you can't see) in each of these pictures, though covered by her gowns. As you can see, she looked like a princess. She still is! Now her high heels fit her feet, but it's still fun to play dress up, even if it's at the department store.
As we sat in the kitchen flipping through the pages of our family photo albums, we decided it would be fun to create our very own high heel cupcakes. While these can't be worn out on the streets, let alone on your feet, we had fun constructing these darling, whimsical treats.
Whether you're five, 25, 55 or 85 years old, every women remembers how beautiful she felt when wearing high heels. Now you can create your own to display, and devour, with this fun recipe for High Heel Cupcakes. Let your imagination run wild while you, and your daughter, grandkids, or friends, create these face to face in the kitchen.
After all it's what little girls and big girls are made of….Sugar & Spice, and everything Nice!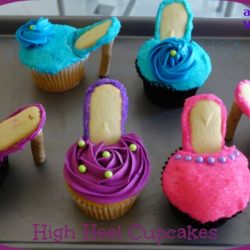 High Heel Cupcakes
Creating this fun treat will spark fond memories.
Ingredients:
2 cans white buttercream frosting
Assorted gel colors for tinting the frosting
Pirouette cookies
12 cupcakes (favorite recipe or box mix)
Milano cookies
White confectioners coating (Candy Melts)
Sanding Sugar, various colors to match shoes and buttercream
Cupcake liners, colorful or plain
Pastry bag, disposable or reusable
Pastry tips with couplers, various shapes and sizes
Directions:
Directions:
Select gel color for icing and blend until thoroughly mixed.
Place icing in pastry bag fitted with a coupler (I used a Wilton 1M) or plain.
Top cupcake with icing as desired. (Can also ice smooth and dip in sanding sugar or nonpareils).
With a 2-inch round glass (I used a shot glass) press a small section into the edge of the icing.
Remove with a paring knife, taking just the top layer of cake.
Fill with icing.
Take a Milano cookie (this will be the sole of the shoe) and ice a thin line around the border.
Dip in sanding sugar or nonpareils.
Stick one end of the Milano cookie into the area that was cut out and filled with icing.
Take a Pirouette cookie and cut in half on a bias.  Trim as need on an angle to fit under the sole of the shoe.
Melt 6 Candy Melts in a microwavable bowl for 2- 3 consecutive 30 second intervals, stirring in between until candy is melted.
Dip an angled end of the Pirouette cookie into the candy melts.
Adhere to the heel of the shoe.  Allow to sit until candy melt has hardened.
Add pearls or other designs if desired.
This is a fun project to do for a children's party as well.  Everyone loves a whimsical treat that they've created.
Enjoy!!!
Want to know how to build a successful restaurant? Check out BonAppetit.com's "Out of the Kitchen", a glimpse into the inner workings of two successful restaurants. Meet the back of the house inner circle and see how face-to-face relationships keep customers coming back for more.
This is a sponsored conversation written by me on behalf of Bon Appetit. The opinions and text are all mine.