Hatch Chile Chicken Burritos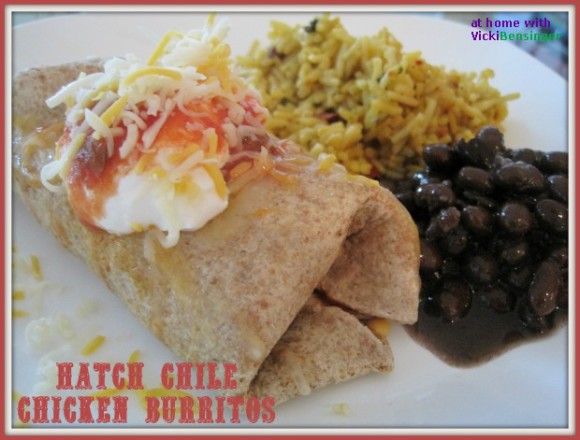 It's been just over a week since my last post.  During that time we made it back to St. Louis – a 14 hour drive without stopping, we stopped of course! Upon our arrival we discovered that a portion of the big old tree in our backyard that was hit by lightening last year, fell onto the roof and gutters. Fortunately there's not a tremendous amount of damage.  However, to top it off the dishwasher somehow started leaking water onto the floor.  Oh goodness, we've had a lot to do since we've arrived but all seems to be going well now. 
The good news is my friends from Melissa's greeted me with a welcome home box of fresh Hatch Chile's
which I managed to nicely char on our grill, then it suddenly stopped working too!
How is it that everything happens in threes?
My chile's were roasted, placed in a closed paper bag until cool, and the skins could be removed easily –
just in the nick of time for the grill to need repair.  Makes me wonder if we were gone a bit too long this time.
Anyway, I decided to make the Hatch Chile Chicken Burritos from Melissa's new Hatch Chile Cookbook and they were delicious!  I added some cheese and Greek Yogurt into the middle in place of sour cream and it was wonderful, creamy and slightly spicy.  I used the mild Hatch Chile Powder rather than the hot.
With the remaining char grilled Hatch Chile's I placed 6 each, flat, in a zip-lock freezer bag.   I had 6 freezer bags total with 6 Hatch Chile's in each one, ready to go for the next time.  Be sure to allow the Hatch Chile's to thaw before using.  Hatch Chile's can be left in the freezer for up to one year – just in time to roast up a new batch!  I didn't opt to peel and seed those to be frozen since I'm not certain how I will choose to cook each batch.
Here's the recipe for Hatch Chile Chicken Burritos, I hope you enjoy them. 
Hatch Chile Chicken Burritos
Ingredients:
2 tomatoes, chopped
1/2 cup roasted, peeled, stemmed, seeded, and chopped Hatch Chiles
1/3 cup sliced green onions
1 tablespoon chopped fresh cilantro (optional)
1 teaspoon olive oil
3/4 pound boneless, skinless chicken breasts, cut into 1-inch cubes
2 tablespoons Melissa's Hatch Chile Powder
8 large (10-inch) flour tortillas (I used 8-inch)
Directions:
In a large bowl, combine the tomatoes, chiles, green onions, and cilantro.  Set aside.
In a large skillet, heat the oil over medium-high heat.  Add the chicken and cook about 2 minutes.
Add 2 tablespoons of water and the Hatch Chile powder to the pan and continue cooking until the chicken is cooked through, about 7 minutes.
Add the tomato mixture to the pan and stir to combine, then simmer the mixture for a few minutes to cook off the liquid.
Spoon about 1/2 cup filling onto each tortilla, adding sour cream/plain greek yogurt and cheese if desired.  Fold in the top and bottom edges, and roll into burritos.
Top with more sour cream/greek yogurt, cheese and salsa  if desired.
Note:
I prepared these ahead of time, placed them in a casserole dish and sprinkled with cheese.  Then placed in a 350F degree oven to warm and melt cheese prior to serving.
We gobbled these up so quickly I totally forgot about taken a photo of the inside.  They were very tasty though!