Grilled Peach & Burrata Salad
Oftentimes the simplest of dishes create the most impact. This Grilled Peach & Burrata Salad is beautiful and bursting with flavor!
I love summer just for the fact peaches are in season. The juicier the better. I've been told by my husband before to tone it down when I eat a peach. That's a challenge when it's so juicy. Have you found that to be true as well?
Actually though for this recipe I seek out the firm peaches. Why? Because once on the grill they soften up. So seeking out a firm peach is best. Then once cut in half, remove the pit and rub with olive oil. Simply place on a medium heat grill cut side down until grill marks appear. Flip peach half over for another few minutes. Once charred and softened, remove from grill until ready to serve.
I prefer arugula for this dish but feel free to opt out for your favorite greens.
Place on a bed of arugula, topped with a grilled peach half. Then place a sliced half of burrata on top of the cut side of peach, and drizzle with balsamic. The flavors explode in your mouth.
The combination of the burrata and the peach with an aged balsamic is phenomenal!
The best part is that this takes little time to create and makes such a statement. Everyone will enjoy this!
So what are you waiting for?
What's your favorite summer salad?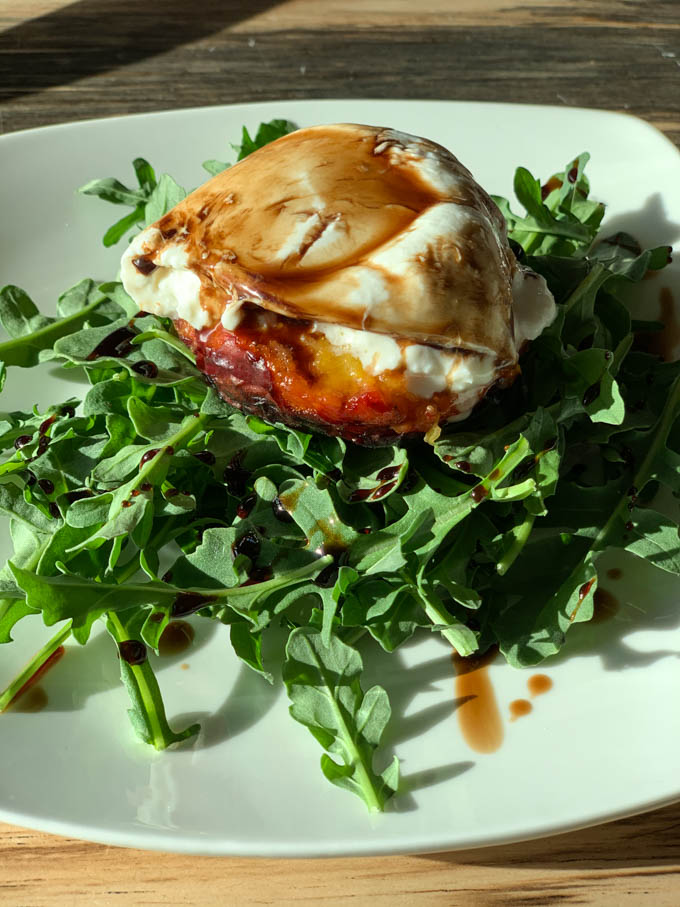 Grilled Peach & Burrata Salad
This Grilled Peach & Burrata Salad is so refreshing, and explodes with flavor! You don't want to miss this!!!
Ingredients:
1 firm peach, halved and pitted
Arugula
Burrata, halved
Balsamic vinegar, aged
olive oil
Directions:
Heat grill to medium heat.
Slice peach in half and remove pit. Rub with olive oil.
Place each peach half cut side down onto the grill.  Grill 3-5 minutes until grill marks appear.  Flip over and continue to grill on the other side until grill marks appear and softened.
On a plate, place arugula, then top with peach half and half a piece of Burrata cheese.  Drizzle with balsamic.
Enjoy!
Hungry for more? Savor these!