Giveaway & Cranberry Orange Bread!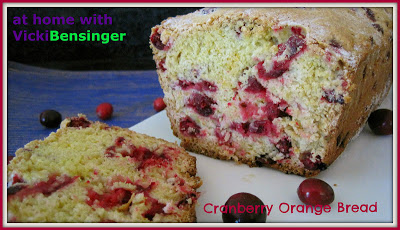 Have you ever noticed that once fall is in the air your eating habits change?  Instead, you find yourself gravitating towards hot soups, breads, oven cooked savory dishes and baked desserts.  Well, maybe not all of you, but definitely "yours truly."
I had been planning to bake some Cranberry Orange Bread when I received an email about a new tool on the market that I knew I needed to try.
Do you like zesters?  I love them and use them all the time especially when zesting oranges, lemons and limes.  This particular tool called the
"Better Zester" by Edgeware
, is amazing! I love this zester and believe me I've tried them all.
I love that it zests without getting the pith – this is because of the v-etched teeth
that just skim across the surface of the citrus.  Plus, it has a measuring compartment so you don't have to fuss with shoving it into a measuring spoon only to get 1/2 of the zest stuck to your fingers.  Even better, when I went to clean it, I didn't have to worry about shaving my fingers, which I found incredible. No Band-Aids needed!
The Better Zester can be found at Williams-Sonoma and online, and retails for $14.95.  However, I have an extra one to GIVEAWAY to one very lucky person.  All you have to do is post a comment telling me why you'd love to win the Better Zester, and:
Like

Edgeware on Facebook

Follow

Edgeware on Twitter

Like

"At Home with Vicki Bensinger" on Facebook
Be sure for each "like" and "follow" to come back here and post a comment that you've done so.  This will increase your chances of winning.
I'm sorry but this offer is only available in the United States.  The winner will be selected at Random on Monday, October 15th around Noon central standard time.  
Be sure to leave a link to your contact information in the event you are the winner.  The winner needs to respond within 48 hours of notification or another winner will be selected.    Good luck!
The winner of the Better Zester from Edgeware was selected at Random on Monday, October 15, 2012 at Noon central time.  Of 48 comments number 33 – SusiTravl was selected.  Congratulations Susi.  Please contact me within 48 hours to claim your gift.
As I mentioned earlier I made a Cranberry Orange Bread using my Better Zester.  This bread is delicious with coffee or tea in the morning, or even a mid-day snack.  Better yet, bake some to wrap up to give as gifts, and attach a Better Zester with it.  Who wouldn't love that!
Cranberry Orange Bread
yields 1 loaf
2 cups flour
1 1/2 teaspoons baking powder
pinch of salt
2 tablespoons, unsalted butter, melted
1/4 cup Grand Marnier
1 egg, well beaten
2 cups fresh cranberries, coarsely chopped
1 cup sugar
1/2 teaspoon baking soda
juice and zest from 1 orange
water
powdered sugar
Preheat oven to 350F degrees.  Sift flour, sugar, baking powder, baking soda and salt together.  In a separate measuring cup, combine the orange juice, zest, butter, Grand Marnier and enough water to make 3/4 cup liquid.  Stir in egg.  Mix liquids into dry ingredients until just blended.
Spray an 8×4 inch loaf pan with non-stick spray.  Pour batter in pan and bake in preheated 350F degree oven 50-60 minutes or until toothpick inserted comes out clean.  Allow to cool 10 minutes in pan.  Remove from pan and sprinkle with powdered sugar if desired.  Serve.