Cranberry Orange Biscotti
The holidays can be overwhelming with all the desserts, dips, and high fat foods. This year however, it's not as bad since we aren't congregating with groups of people for holiday parties.
Even still, when we are looking for cookies or a treat I find that these Cranberry Orange Biscotti are ideal! They're not too sweet, have no butter, and you don't feel guilty indulging.
If you've never tried biscotti before they're double baked and very crunchy. In fact, they are perfect for dipping into coffee, milk, or even a chai tea latte.
Biscotti can be made using various ingredients to change up their flavor. This time of the year my family enjoys this version I created using dried cranberries, pistachios, orange olive oil, and the zest of an orange. They look so festive!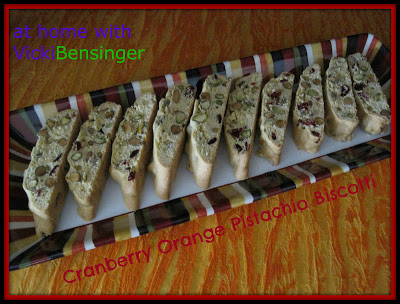 Make them ahead to give as a gift to your neighbors or those you will be seeing in the coming weeks. Best of all keep some on hand, since they store well in a container with a sealed lid or zip lock bag, to enjoy when the urge strikes.
Since these are double baked they do take a little bit longer to create than your basic cookie, but the Cranberry Orange Biscotti are definitely worth it.
If you can't find orange olive oil don't worry, just use regular olive oil or try another flavor that's readily available.
However you serve these I am certain everyone will enjoy them.
Remember if gifting these, be especially careful to use safe cooking practices, keeping Covid-19 in mind.
Wishing you all a Safe, Healthy, and Happy Holiday!
Cranberry Orange Biscotti
These Cranberry Orange Biscotti  are a crunchy cookie/biscuit-like treat, ideal for breakfast, lunch, dinner or any time of the day! Guiltless and tasty, you'll keep going back for more.
Ingredients:
¼ cup Orange Olive Oil
¾ cup sugar
2 teaspoons Pure Vanilla
½ teaspoon almond extract
2 large eggs
½ teaspoon salt
1 ¾ cups, unbleached flour
1 teaspoon baking powder
½ cup dried cranberries
1 ½ cups pistachio nuts, shelled
Zest of one Orange
Directions:
Preheat oven to 300F degrees.  Spray cookie sheet with non-stick spray and line with parchment paper.
Using an electric mixer, blend olive oil and sugar together.
Then add vanilla and almond extracts and eggs, beating until the mixture is completely blended.
In a small bowl, whisk together flour, salt and baking powder until thoroughly combined.  On low speed, gradually add to the egg mixture.  Fold in orange zest, pistachios and dried cranberries.
Divide dough in half.  On the cookie sheet, form each half into a log about 12 inches long and 2 inches wide.  Space logs about 4 inches apart.  (Dough will be sticky so lightly moisten hands in cold water before forming into logs).
Bake in center of oven for 35 minutes or until the logs are light brown.  Remove from oven and turn heat down to 275F degrees.  Let logs cool on baking sheet 10 minutes.
With a large metal spatula, remove the logs to cutting board and using a long, sharp knife, cut each log on the diagonal into ¾ -inch slices.
Stand slices upright on cookie sheet and return to oven for 8-10 minutes, until they are light brown.
Cool biscotti on rack and store in a tin between sheets of waxed paper.  They can be kept at room temperature for up to 2 weeks.
Hungry for more? Savor these!
Holiday Shortbread Cookies with Candy Cane Blossoms