Comfort Food for my Hubby!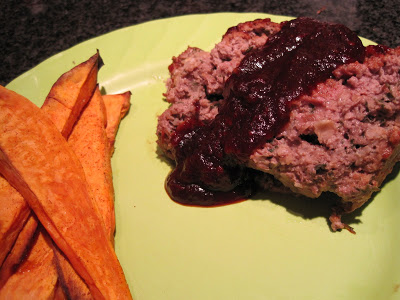 There aren't too many foods that put a smile on my husbands face. But, one dish that I know he'll always love is my meatloaf. So when he walked in the house today after work and asked what we were having for dinner I said, "Meatloaf." An immediate smile came over his face. I love when that happens.
I've never really been a fan of meatloaf but I've acquired a taste for it since he loves it so much. In fact, it's really a great dish to prepare when the weather is getting cooler or for a casual dinner or quite frankly I think it would be a great dish to serve on Halloween night.
We've always either made chili for a crowd or ordered out pizza. Why not do meatloaf? It's a burger with lots of flavor but cooks all at once. It's simple to prepare and tasty. Of course, we won't be having it this Sunday for Halloween since we're having it today. However, you can, and to go with it make some sweet potato fries, my favorite, and a side salad. What could be easier than that?
Here's my recipe for meatloaf. As always, my photo isn't that great but the dish is quite tasty.
Meatloaf with Sweet Sauce
serves 4-6
2 1/2 pounds ground beef, (I use ground sirloin)
1 cup milk, (skim)
1/4 cup dried minced onion
2 eggs, beaten
3/4 cup oatmeal
1/4 cup dried parsley flakes
1/2 tsp. fresh ground pepper
Sauce:
1/2 cup chili sauce (Heinz)
1/2 tsp. Kitchen Bouquet
2 Tbsp. brown sugar
1 tsp. dry mustard
Directions:
Mix all ingredients except sauce in a bowl. Put into a loaf pan that's been sprayed with a non-stick spray. This may be done the day before or early in the day.
Bake at 350F degree oven for 45 minutes.
Meanwhile mix together sauce ingredients. After 45 minutes, remove from the oven, drain grease and add the sauce on the top of the meatloaf. Cook 45 minutes longer, drain grease and serve.
Note: I always place heavy duty foil on the sheet pan that I'm cooking the meatloaf on to catch any spills that may occur during cooking.
Then after removing the meatloaf to drain for the first time I wrap more foil around the pan letting it extend over the sides of the meatloaf pan. This eleviates any splattering from the sauce.
I like to make some additional sauce in a pan while the meatloaf is cooking. Then if desired drizzle over the sides of each individual slice when served.
Enjoy!