Caramelt Crunch Popcorn
Game day, Super Bowl and the Grammy Awards will all be on television soon. Some of you may be lucky enough to attend one of these events live. In any case the majority of us will be watching them in the comfort of our homes.  Whether we have family and friends joining us or watching it solo one things for sure, you'll want to make this Caramelt Crunch popcorn to have at your side. 
My family loves popcorn!   Over the years I've enjoyed making it for everyone.  From plain, to this Caramelt Crunch popcorn! There's a place here in town that I frequent to get gourmet popcorn when the urge strikes – Poptions! However, I just went to grab their link – it said as of December 28th they were closing their doors.  Now I'm sad 🙁
Each of us has our own favorite but mine has always been their Caramelt Crunch.  Plain popcorn covered with a thick rich caramel, then drizzled with chocolate and crumbled toffee bits. Now doesn't that sound delightful?
I picked a bag up a few weeks ago and thought, "I can make this!" So of course I started investigating recipes online and in cookbooks. Virtually all were about the same.  Each recipe had brown sugar, butter, salt, and corn syrup. Some included vanilla, baking soda, and sweetened condensed milk.
So I decided to give it a go. In place of the corn syrup though I used Lyles Golden Syrup.  The manufacturers of Lyles has always said this can be used interchangeably with corn syrup.  Since the flavor is more pronounced and tasty on its own, in my opinion, I always opt for Lyles.
This recipe is so simple. Just be sure to use a deep saucepan, and have a couple of large sheet pans on hand when it comes to baking the coated popcorn. I recommend using silicone utensils when stirring for ease of clean-up but not essential.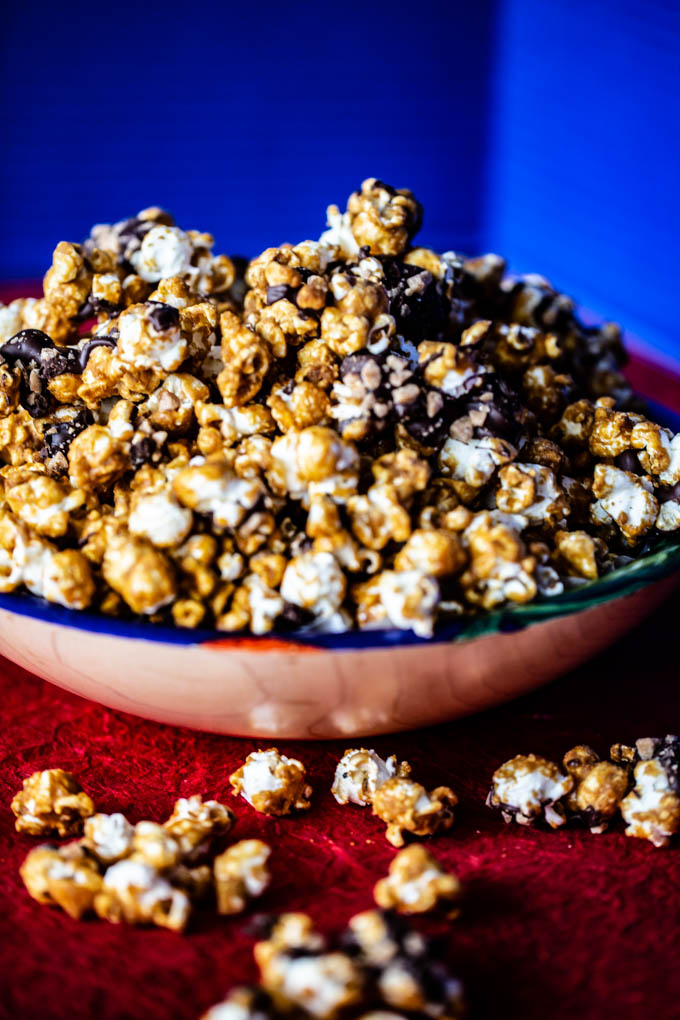 So what are you waiting for? The games are on all weekend, with Super Bowl next month, and the Grammy Awards tomorrow evening! Any questions – just shoot me an email at Vicki@VickiBensinger.com. Please tag your photos #vickibensinger on Instagram if you make my Caramelt Crunch Popcorn!  
Caramelt Crunch Popcorn
If you're a fan of popcorn you'll find my Caramelt Crunch -  caramel coated popcorn with a dark chocolate drizzle and toffee crunch, utterly irresistible!
Ingredients:
Directions:
Heat oven to 225°F. (Low temperature will prevent caramel from burning).
Pop kernels 1/2 cup at a time in a popcorn popper, or large stock pot with lid. (Alternatively purchase plain store bought variety).
Place prepared popcorn onto 2 large sheet pans covered in heavy duty foil; set aside.
In a 3-quart saucepan combine brown sugar, butter, Lyle's Golden Syrup and salt. Cook over medium heat, stirring as needed, 8-10 minutes or until mixture comes to a full boil. Continue cooking, stirring as needed, 5 minutes.
Remove from heat; Carefully stir in vanilla and *baking soda. Caution: Mixture will begin to bubble vigorously. Continue stirring until it subsides, then carefully pour hot syrup mixture over popcorn in pans.  Using silicone spatulas or non-stick spoons, stir until well coated.
Bake 1 hour, stirring every 15 minutes, or until caramel corn is crisp. Immediately place caramel corn onto parchment or waxed paper. Allow to cool completely.
Place dark chocolate chips (or desired chocolate) in small microwave-safe bowl. Microwave, 1 minute stirring at 30 seconds intervals, or until chocolate is melted and smooth. Drizzle over cooled caramel corn. Immediately sprinkle with toffee bits and sea salt, if desired. Let stand until drizzle is set.
Store in container with tight-fitting lid, zip-lock baggies, in a large bowl for a party, or package up for gifts.
Notes: When you add baking soda to cooking caramel, it foams up rather dramatically - be careful! That foam is creating tiny air bubbles, which aerate the caramel and prevent it from becoming too dense giving it a softer texture and allowing it to better coat the corn.
Hungry for more? Savor these!
Tools used to make the Caramelt Crunch: