Banana Mango Smoothie Push Pops
I love ice cold fruit smoothies especially on days like today when the temperatures reach almost 100 degrees.  But, sometimes I just don't feel like cranking out the blender to whip up a batch especially if I'm hot and tired from walking the dogs in the heat or just doing whatever, outdoors.  That's when it's nice to have them made up and poured into individual Push Pops.  They're then stored in the freezer and ready to pop out and eat like a popsicle or push pop in this case.
Of course you can make these anyway you want, with whatever fruit, fruit juice or yogurt that your heart desires.  Best of all when you have company over, the kids or grandkids it's an ice cold healthy treat that everyone loves.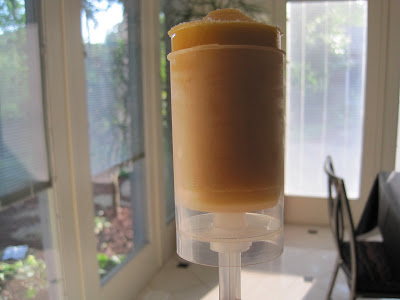 Here's the recipe for my Banana Mango Smoothie Push Pops, but don't be afraid to try your favorite ingredients and make your own creation.
Banana Mango Smoothie Push Pops
makes 4 push pops
In a blender place:
1 banana
1 ripe mango, sliced and cubed
1-2 teaspoons Agave Nectar

1/2 cup Plain Non-Fat Yogurt
Blend until smooth.  Pour into Push Pops, cover and place in the freezer for 24 hours to solidfy.  Stand upright in between the slats of your freezer shelves.  They're ready to enjoy 24 hours later. 
Will keep indefinitely.
Interested in the health benefits of Agave Nectar?  Read here.
Enjoy!